Hair loss has affected many people differently at various points in their lives. Hair problems can start slowly and get worse over time, or they can happen all of a sudden. We lose 50-100 strands daily, but some people shed more than 100 strands per day. Fortunately, re-growing or slowing down hair fall is possible. Today we will discuss Nutrafol vs Rogaine and see the connection between Nutrafol and Rogaine.
In this article, we will investigate the product. What is rogaine and how is it helpful for women? Also, we will see if there are any side effects to Rogaine and how safe it is.
Nutrafol vs Rogaine – An Overview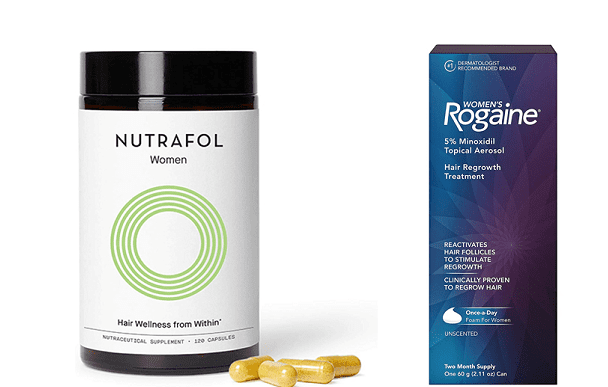 What is Nutrafol?
Nutrafol is a hair growth supplement launched in 2016. It is manufactured by Nutraceuticals Wellness Inc. It is a New York-based company that produces 100% drug-free supplements. The product is marketed as a hair loss product. It is made with all natural ingredients that promote hair growth by 80%.
The ingredients are proven and backed by science. You can check the official website to learn the benefits of each ingredient individually.
How Does It Work?
Research shows that there are multiple reasons, such as diet, stress, and hormone changes, that can cause hair problems. Nutrafol aims at improving hair health by restoring the nutrients, reducing stress hormones, and balancing the hormones. It is a supplement that also neutralizes the inflammatory molecules that cause hair issues.
The ingredients found in this supplement help to reverse the hair loss process. It also supports cortisol levels because they play an important role in the body. Your hair will not grow longer if your cortisol level is high. This product has every ingredient that is good for hair growth and fights hair loss causing problems like DHT, lifestyle factors, etc.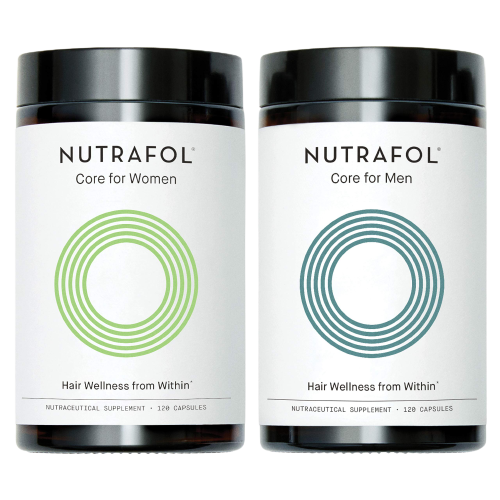 What we like:
With a Nutrafol subscription, you can access the company's naturopathic doctors.
Products that are completely drug-free.
It is proven to improve hair growth by 80%.
Nutrafol is a natural ingredient-based supplement.
It works on multiple hair growth factors.
What We Don't Like:
A little bit pricy.
The user has to take four capsules per day.
The number of dosages is high.
Women's Rogaine 5% Minoxidil: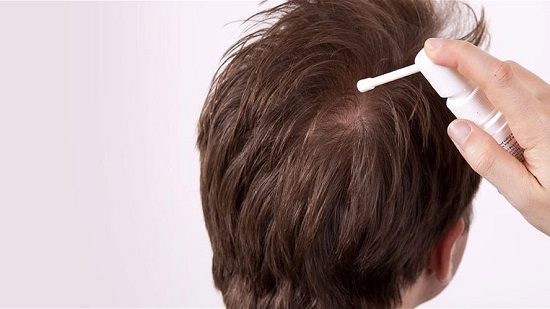 Women's Rogaine 5% Minoxidil Foam is a topical treatment for hair thinning and hair loss. It is said that it is the best treatment for women's hair regrowth. This supplement comes in a 4 month supply.
The product is advertised to help treat hair thinning, hair loss, and support hair regrowth. Rogaine is especially formulated for women. The company claims that it is a fast-acting solution made with 5% minoxidil.
Minoxidil is a clinically proven substance to regrow hair and activate hair follicles and hair protein production. Minoxidil is often associated with male pattern baldness, but now it is also helping women who are looking to reduce their bald spots, hair loss, and hair thinning.
Rogaine is an unscented foam that contains lactic acid, botanical extracts, and alphahydroxy acid (AHA) for healthy hair regrowth. Originally, minoxidil was developed for the treatment of hypertension. Although it is proven, it should be used carefully.
How Does Rogaine Work?
The company says that Rogaine works to identify the causes of hair loss and stimulate the growth of hair. It is also mentioned on the website that no topical treatment works faster. Therefore, it will probably take 4-6 months to regrow the hair. Also, the treatment must be used continuously to maintain hair growth.
Is Rogaine Safe?
Although the Women's Rogaine is labelled safe, you should use the product carefully. If you use this topical foam treatment on other body parts, it can lead to irritation. If you use this topical foam treatment on other body parts, it can lead to hair growth on unexpected body parts. It is recommended to not use this solution on red, irritated, scraped, burnt, cut, or infected parts.
Using a product more often, or more than as directed, will be harmful. It can cause serious side effects.
What we like
It is easy to use.
Recommended by the Dermatologist.
unscented foam solution.
What we don't like
It should be used continuously to maintain hair growth.
It is a leave-on topical solution that is unsafe for some people.
No cruelty-free.
Rogaine vs Nutrafol: Comparison Chart
To compare Rogaine vs. Nutrafol we have maintained a table that shows the difference between the two products. They are both very popular hair growth solutions, but we will compare them to choose the best hair growth product.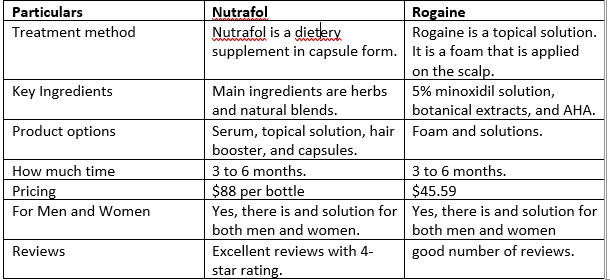 Which Is Good? Nutrafol vs Rogaine: Final Verdict
Since some hair treatments require a prescription before starting, in the case of Nutrafol, you can start out by taking the quiz. Nutrafol provides other mediums like a questionnaire to learn the user's hair goals and concerns about using the supplement. Nutrafol hair specialists will check your questionnaire and prescribe a plan-based supplement for you.
Unlike other supplements, Nutrafol is not approved by the FDA. Nutrafol is a safe and clinically proven supplement. However, Nutrafol has shown positive results. It is the best supplement for minimizing hair loss. If you have telogen effluvium, which is a condition that causes hair loss, Nutrafol could be a good choice for you.
It doesn't produce results overnight, but if you use Nutrafol treatment regularly, it will help you get back on track by providing nutrition. The Nutrafol customers say that they have experienced healthier and fuller hair after using this supplement. It is also important to adjust your expectations and be realistic.