We are very excited to bring you a wonderful hair miracle formula called Tressurge Hair growth Serum. But what makes it magical? In our previous blogs, most of the hair products were related to men or unisexual. Therefore we tried to discover and research more to dig out information about a hair serum that could really benefit a woman and can cure her hair problems.
So, if you're a woman and reading this blog, please do continue with your reading, as we will be doing a fair Tressurge hair growth serum review in our blog to find out why it is claimed as a miracle serum for hair growth?
Tressurge Hair Growth Serum Review – An Overview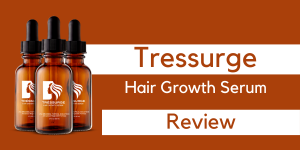 Tressurge Hair growth is a topical hair solution that is made by a team of dermatologists to cure the hair problem of women. Product is claimed to be:
Made from 100 percent natural ingredients
It is made to reduce the effect of a male hormone called Androgen which is produced in many women due to PCOS syndrome.
It is claimed to cure the rapid hair loss
Proven to promote hair regrowth
Reduces hair thinning problem and make your hair thicker.
Tressurge hair ingredients are known to trigger the three hair growth stages called Anagen, Catagen, and Telogen.
Helps in revitalizing the hair follicles to boost hair regrowth.
Tressurge hair growth serum is effective for every kind of hair varying from straight to curly.
How does Tressurge Hair Serum Works?
Tressurge Hair serum works on making a protective shield over the hair follicle, activating them from the resting phase to enhance their hair-producing capabilities. It is based on a proven formula that claims to increase anagen hair among by up to 46 percent.
You have to use it regularly and gently apply it to your hair scalp. Giving a gentle massage, you can start with regular massaging and treating your hair with Tressurge hair serum.
There is no risk of chemicals as its active hair ingredients are organic and made to repair the damaged hair roots and pores, enable to reactivate them, reduces its aging process, and stabilizes the hair fall disorder.
It also helps in enhancing the cellular metabolism on hair roots and tries to reduce hair loss at its minimum.
Ingredients of Tressurge Hair Follicle Boosting Serum: There are five Elements that make Tressurge Hair follicle boosting serum and are mentioned below:
Rosmarinus Officinalis: Better known as Rosemary oil, in general, is a very effective hair-boosting ingredient, which helps in boosting hair growth and it is found in the Mediterranean subcontinent.
Helpful in treating dandruff
It is a kind of essential oil which are volatile in nature due to their concentrated form.
It also acts as an antioxidant for your hair damage problems.
It contains anti-inflammatory properties that help to prevent hair loss
Improves proper blood circulation into your hair follicles.
Procapil
It contains Hair strengthening properties to promote hair growth
It will help to provide proper oxygen supply to your hair roots.
It works from the roots of your hair to the tips of your hair making it strong and shiny.
It will increase blood circulation and would activate the dormant hair follicles
Biotin
Biotin is among the vitamin B7 which is involved in enhancing many metabolic processes.
It stimulates Keratin production and helps in activating Hair growth.
Biotin is recommended to be taken between 30 to 100 micrograms according to your age.
It is helpful in reducing the inflammation inside the head
It supplements the hair by providing the required nourishment to its roots.
Glycerin
Glycerin is known to suit any type of hair whether it is curly or thick or wavy.
It is helpful in repairing hair damage.
It is helpful in moisturizing the scalp of your hair.
It is also used to treat the dry scalp and improves damaged hair.
It is also known to curb the dandruff problems found in women.
Equisetum Arvense
Better known as horsetail in common and is an ancient roman herbal remedy.
Equus means Horse and Seta means bristle, therefore, equalling to Horsetail.
It contains silica inside the horsetail to increase hair growth and hair thickness.
It also affects your collagen production which in return promotes your hair health.
It not only benefits your hair strength but prevents hair thinning.
Does Tressurge really work?
It is known to be a trusted hair product that helps in the hair regeneration process. According to the survey done and collected Customer ratings about Trressurge hair growth serum. It was found that:
85% of users have accepted that their hair has grown healthier and thicker.
88% of users have seen the effect in their volume of hairs
93% have accepted that they got a fuller head.
Also, many customers have given it rating of4.2 out of 5 on amazon and more than 50 percent of people have voted for a 5 out of 5 ratings.
Pros
Some advantages of Tressurge hair serum:
100 percent natural ingredients
Works on folic structure repairment of your hair
No prescription of the solution is required.
It is manufactured from FDA-certified protocols.
Disadvantages of Tressurge Hair serum:
Only available for women
Only available in the United States
Only suitable for the specific types of hair problems
Pregnant and breastfeeding women must avoid this serum.
Common FAQs on Tressurge Hair Growth Serum Review
Where to Buy Tressurge Hair growth serum?
You can buy the original product by visiting the official site of Tressurge at the lowest price. @Tressurge.com
Is It Available for Men?
Unfortunately, it is not available for men
Does hair growth serum actually work?
Yes, hair growth serum is a great weapon to treat your hair loss condition.
Which serum is best for fast hair growth?
As per me, Tressurge hair growth serum is best on the market today.
How long does hair growth serum take to work?
Best hair growth serum might take around 3-4 weeks to show good results.
Tressurge Hair growth Serum Price
Here are some exciting price offers and shipping details about Tressurge hair growth serum:
Tressurge Hair growth serum will cost you around $34.99 per pack, but it comes under three types of fanny packs like:
Starter Pack- Here you will get one bottle of serum under one month supply for $69
Three bottle Value Pack- Here you can have three bottles of serum under a three-month supply for $177.
6 combo Pack- Six bottles of serum shipped for six months for under $49 dollar.
It will come under a Fanny pack which is a lightweight polyester, secured within a zipper.
Final Verdict on Tressurge Hair Growth Serum Review
Overall product is good and we have evaluated the entire hair serum product under our Tressurge hair growth serum, It not only helps to cure the rapid hair loss but also is made from natural hair growth-boosting ingredients, one of the best things about Tressurge is, it is suitable for every kind of hair from wavy to curly! So, what are you waiting for, Give it a try!