Hello friends, We have come up with a new and trendy treatment that has created a lot of buzz in the market. We have seen plenty of Nutrafol for women review, and the majority of the reviews are positive. We have tested the product to evaluate its efficacy, benefits, and other factors.
During testing of the Nutrafol Women hair supplement, I have learned that this supplement is not for those who want instant results. It is not a magic pill that you take one capsule at night and wake up like Rapunzel the next morning.
In this review, you will learn about the Nutrafol supplement, its advantages, its side effects, how it works, and most importantly, whether it is safe or a scam. Here is our full evaluation of Nutrafol for women.
An Honest Review of Nutrafol For Women in 2022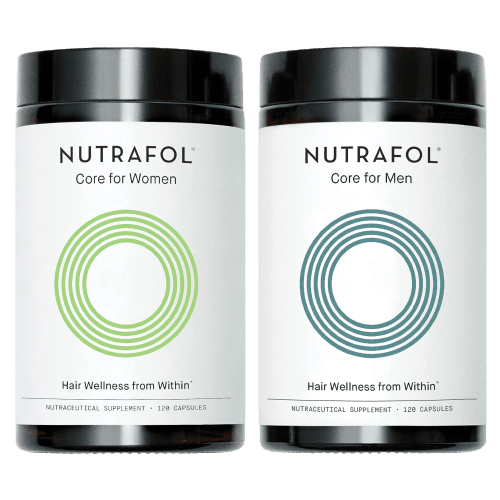 Nutrafol Woman is perhaps one of the most popular supplements for women. These hair supplements support hair thinning, and hair shedding, and lead to stronger and healthier hair. Nutrafol targets the most common causes that can cause hair loss.
Women's bodies respond differently to different factors that can cause hair thinning and other related problems. This supplement addresses gut health, stress, imbalanced hormones, aging, and nutrition. Nutrafol appears as a hope for many women who want thicker, healthier hair.
The Nutrafol oral supplement is a mixture of various ingredients that work to remove key culprits. It contains complex vitamins, minerals, nutrients, and extracts to combat hair problems.
Read Our Nutrafol Reviews Here…
What Is a Nutrafol Woman?
Nutrafol Wellness is manufactured by Nutraceutical Wellness Inc. It is a New York-based company that produces 100% drug-free supplements. It is co-founded by a former model and entrepreneur, Giorgos Testis. Nutrafol is a leading hair growth supplement company. Nutrafol is different from other hair-boosting supplements on the market.
They offer high-quality, clinically tested, and proven regrowth hair supplements for men and women. Nutrafol Women is specially designed to boost hair growth, health, and health quality naturally. The company is dedicated to producing natural and safe hair supplements.
Its makers are working with doctors to come up with effective supplements that should work for different types of bodies.
Nutrafol offers three different varieties of supplements for women, such as: Nutrafol for women for hair thinning and hair loss, Nutrafol balance for women experiencing hair thinning or loss after menopause or hormonal imbalance; and It will reduce hair shedding by improving hair growth and providing visible results. Lastly, Nutrafol postpartum was developed to help recover from postpartum recovery.
Nutrafol Ingredients
Nutrafol wellness products are high quality, 100% pure, and organic hair supplements for women. The Nutrafol capsule is a proprietary blend of multiple ingredients that are clinically proven. Additionally, it contains some herbs and amino acids in its formula. However, the company is a little bit secretive about its ingredients, but it doesn't affect its effectiveness.
All three amino acids are well-known for promoting cell regeneration and the growth of hair follicles. L-cysteine plays a key role in function in the cortex of hair follicles. Decreased absorption can cause deficiency, and supplementing with L-Cystine helps to improve nutrition absorption.
On the other hand, L-methionine protects hair from free radical damage and enables keratin to do its job. However, lysine helps to get the shape and volume.
Keratin– Keratin is one of the essential ingredients of Nutrafol. Keratin is the vital building block of hair. It supports hair growth and healthy hair.
Resveratrol Extract– It is a potent ingredient extracted from the skins of red grapes. It is rich in antioxidant properties, and antioxidants are good for hair growth and helpful in maintaining hair health.
Horsetail Extract– Horsetail is another herbal extract found in Nutrafol. It is enriched with hair-boosting minerals to promote hair growth. It also contains silica for strength.
Bioperine– Bioperine is used to increase the availability of nutritional compounds and enhance the effects of other ingredients in Nutrafol.
Japanese Knotweed– This ingredient is generally associated with liver health. It is included to improve liver health because liver diseases often lead to hair loss.
Capsicum– Capsicum is a well-known ingredient for boosting insulin growth factors that leads to hair growth.
Black Pepper– Again, black pepper is an important ingredient in Nutrafol. It is jam-packed with vital vitamins and minerals that help boost hair growth and easily get absorbed.
Saw Palmetto- Saw palmetto is not clinically proven for hair growth, but it is effective for lowering DHT, the hormone that can cause hair thinning and hair loss or androgenetic alopecia.
Sensoril Ashwagandha– Ashwagandha is a medicinal herb. It can treat stress, elevate cortisol, and improve brain functions.
Marine collagen– marine collagen offer vital amino acids and protein to produce keratin which is necessary for hair.
Curcumin– Curcumin is a compound of turmeric. This extract is beneficial for inflammation, brain function, heart diseases, and treating cancer.
Full-spectrum palm extract- Studies show that palm extract helps to lock the moisture within the body and in the hairs. It can regrow and provide thickness to the hair.
Hyaluronic acid – Hyaluronic acid is used in beauty products to lock moisture in. It makes your hair hydrated and prevents drying and hair breakage.
How Does Nutrofol Work?
By addressing the root causes, Nutrofol helps to reduce hair loss and hair thinning. Nutrofol supplements restore hair growth by suppressing stress, and androgens in the body. Androgen is a hormone that supports hair growth and reproduction. In the supplements, there are things like ashwagandha that help keep cortisol levels in the right range.
Moreover, it also reduces DHT levels. Increased DHT hormone levels are one of the main causes of slow hair growth. That's why some ingredients, such as saw palmetto extracts, block DHT hormones and promote hair growth.
Additionally, it also improves metabolism to provide energy and boost hair production. Nutrafol includes several anti-inflammatories, antioxidants, vitamins, minerals, and nutrients that stimulate hair growth, and offer thickness and strength to your strands.
Benefits Of Nutrafol Supplement
Nutrafol supplements offer a range of benefits to users. The formula of Nutrafol is safe and convenient for everyone. The following benefits of Nutrafol are mentioned below.
For fast hair growth, Nutrafol offers a personalized recommendation plan as per your hair goals

,

and lifestyle for fast hair growth.
Users will get access to the company's doctor after the subscription.
Nutrofol's rare ingredients and propriety blend provide the right nutrition for your hair and hair follicles and let them grow faster.
It is also helpful in inflammation because it contains anti-inflammatory compounds.
Reduce anxiety and oxidative stress.
DHT hormones are inhibited.
Nurtrafol offers a variety of products, as per your hair condition.
Is Nutrafol Safe?
Nutrafol is made of drug-free ingredients. This mild and 100% natural formula is safe for use. Nutrafol is a dietary supplement, therefore it is not regulated by the FDA. However, it is made safely by following the guidelines of good manufacturing practices. Nutrafol is meant to restore the hair and boost the process by correcting the main causes of slow hair growth or hair fall.
How To Use Nutrafol Pills?
The manufacturers recommend taking four pills every day. One bottle of Nutrafol includes 120 pills, which is perfect for one month's supply. Nutrafol is fat-soluble. Some users have seen benefits within one month. However, it is suggested to take the supplement for 3–months.
Pros and Cons
In this section, we have covered a few pros and cons of the supplement that we have found in our research.
Nutrafol contains all-natural ingredients in its formula; thus, it is completely safe and natural.
The Nutrafol hair growth solutions are clinically tested.
Supplements have positive effects for the majority of users.
Some doctors also recommend Nutrafol hair treatment supplements.
The company offers different pricing options according to your budget and needs.
Subscribed users will get access to Nutrafol Doctors.
Cons –
Nutrafol starts at $88.

The amounts of the ingredients used in the supplements are not public.
Mild side effects have been reported by some users, but they fade after a few days.
Does Nutrafol Is A Scam?
To be honest, Nutrafol is not a scam. We did not leave any stone unturned to evaluate Nutrafol's women's balance hair growth supplement for thicker reviews. Nutrafol has received a positive response for promoting hair growth, making it thicker and more dense on the scalp.
Furthermore, Nutrafol Women's balance reviews and ratings are also favorable.
Hair supplements are an effective and legitimate hair treatment solution.
Can you buy Nutrafol over the counter?
Yes, Nutrafol can be found over the counter and in some near by stores.
How long does it take for Nutrafol to work?
It might take around 4-5 weeks to show noticeable results.
Reviews for Nutrafol for Women:
We have collected some real reviews by the users of Nutrafol. Have a look at what some real users say.
My part was getting wider, and I started styling my hair differently to cover it up. It was embarrassing. After 6 months of using Nutrafol, I'm seeing more growth and my part is shrinking again. Now I feel more confident!" Marina age 50+.
I've noticed continuous growth. It's been easy for me to integrate this into my daily ritual." Teresa Age 50+.
"I noticed thinning on the top and sides of my hair, which was starting to become hard to cover up. After taking Nutrafol I noticed I could now wear my hair in more styles." Jacqueline 40+.
Pricing Options for Nutrafol: If you are planning to buy Nutrafol, you can get it from the official website of Nutrafol Wellness. Subscriptions to Nutrafol start at an affordable price. You can easily cancel your subscription at any time. The company offers three price options for users' convenience. Each bottle of Nutrafol costs $88.
Nutrafol Where to Buy: In addition, monthly delivery starts at $79 and includes a doctor's consultation for free. Furthermore, a 3-month supply costs $225 along with a free doctor consultation.
Final Verdict
Nowadays, hair loss or hair thinning is a common problem in men and women. To overcome this common issue, Nutrafol produces clinically tested hair supplements for women and men. The company claims that its supplements are backed by studies and are proven.
If you are experiencing hair loss or related hair issues, Nutrafol has a line of products for you. The Nutrafol for women reviews are flooded with positive responses. It increases hair growth and helps with various other hair problems. But before starting with any supplement, consult your doctor or health professional.