Hair loss is not a new Phenomenon! We all have been suffering from hair issues in some way or the other, and there are lots of blogs about hair care treatment and hair regrowth claims, but are they reliable? Many customers and buyers are always trying every new product now and then, whichever one comes in the market, but not all get those impressive results, here we will also be trying to cover one such review about a hair product known as Nutrafol reviews.
Nutrafol Reviews – What it Is?
Nutrafol Reviews: Nutrafol hair product is a nutraceutical brand that provides hair wellness supplements across the world, it is manufactured in the United States with GMP-certified manufacturing and its headquarters are located in New York,
Also, it holds a registered patent under the name Synergen Complex.
In our Nutrafol reviews, we observed that it tends to sound different unlike the rest of the hair products that require prescriptions and hair vitamin dosages, it created a sense of using the natural raw materials to support sustainable development and to help in waste food management.
Made under the supervision of lots of dermatologists and scientific advisors, it is claimed to be the byproduct of hair wellness research, A scientifically tested bio-optimized formula that came into existence in 2013.
Company Overview
Nutrafol brand's current CEO who was also a Professional Model, Mr. Giorgos Tsetis has shared his story of hair loss in Nutrafol's dashboard's, 'Our story', section, that "How his professional life as a model was stressful and due to his hectic schedule, It has started affecting his hairs in an adverse way, continuing his experience about hair loss in the early 20s, he had also revealed the reason to be genetic as well as stressful lifestyle."
After wasting lots of time, in a prescription-based hair treatment that has even caused him sexual side effects, he was determined to find the most organic and natural hair solution, and here, it became the turning point of his life, when Nutrafol hair product came into existence.
Nutrafol was introduced by three different people from different backgrounds, were Giorgos Tsetis, Roland Peralta, Dr. Sophia Kogan, Apart from Giorgos these two had their own set of stories, which you can read in there, 'Our story', section.
Nutrafol Reviews – Features
Nutrafol has been made after taking personal experiences of its Co-founders into considerations, coming with a tag line, "Better hair is just the beginning !!'
They believe that having strong and healthy hair also helps to gain confidence in the other sphere of life, they boast about hair is the sign of inner strength and empowerment!
Let's see what are the features of Nutrafol, that makes it a hair-science oriented Product:
100% Drug-free: In our Nutrafol reviews, we found, it claims that it doesn't contain any harmful chemicals and has used fully natural ingredients that have the miraculous hair growth formula which directly targets the cause of hair thinning.
For Cause for Humanity: Apart from being an innovative Hair-science product, it claims to support sustainable development and waste food management by using the highest qualities medical-grade botanicals that are effective and have below qualities:
Gluten-free
Hormone-free
Dairy-free
Shell-fish free
Binder free
Harmful additive-free
Growth Activator Serum
The serum has proven revolutionary hair growth formula which is based on patent-pending Ashwagandha Exosome technology helping in cell boosting of the scalp.
Various Certification Hair Product: To provide reliable and trustable hair products, it has got various types of certification regarding its purity, its consumption, and its manufacturing, here are some certifications which it claimed to have owned:
FDA-Registered
GMP-certified
USDA inspected
IFANCA HALAL Certified
Provides Hair wellness Quiz
Nutrafol also comes with An Online Hair Quiz, where a customer can easily choose his hair plan, by simply clicking that dark green tab and by answering some basic questions can get a suitable hair plan and hair product.
Triple-Verified Hair Product research: Under its section of science, Nutrafol is claimed to be undergone three tiers of verification, where its Clinical studies have been peer-viewed and published in popular medical journals, After this they claim to have gone through a Clinically tested formula and in the third level, they have also tested their key ingredients.
Five Prestigious Institution Research Collaborated-Hair Product: Nutrafol marks a long but deeply researched hair science journey, where it has cherry-picked many experienced research scientists from the University of Vienna, the University of Bradford, University of Bradford, Cornell University, and at last Rutgers university have come together as the Nutrafol Science team.
How does Nutrafol Works?
Nutrafol takes various hair thinning factors under its consideration and has well – explained its procedure about the hair growth secret like it has targeted the common factors of a human body:
Hormones: Dihydrotestosterone (DHT) is a sex hormone androgen present in both men and women, which triggers the male pattern balding, its presence contributes to several hormonal changes related to the deep voice, hair and muscle mass growth, fat storage factors, etc.
Access Amount of DHT can cause your hair follicles to shrink and disturb your hair growth cycle,
It reveals that Men have 40 percent more androgen levels than women, therefore Male Baldness is often seen in them at a larger level than women, whereas women do experience the widening of hairlines.
Nutrafol uses many active ingredients like Saw Palmetto and Maca are found to be effective in case of reducing the excess amount of DHT and promoting hormonal health in both men and women.
Stress: Stress is developed due to a busy lifestyle which can directly affect our mental and emotional health, triggering the development of harmful toxins, which are released in our bloodstream and affect our hair roots.
Nutrition: A poor diet without any health benefits can cause the weakening of hair roots because it lacks several vitamins and hair proteins that are required for the nourishment of your hair.
Metabolism: An inflammatory condition in your hair follicles due to thyroid problems and another chronic disease can slow down the formation of new hair cells and starts attacking the hair pores.
Environment: The surrounding of a person plays a major role, as it affects the mental and physical health condition of a person.
The person living in a heavily polluted environment can suffer an early hair loss and hair shedding problem, where dust and contaminated air zone can largely affect your hair health.
Nutrafol Ingredients
Nutrafol Ingredients varies from its product to product because it has been designed according to two sex hormones female and male, However, the top major eight active ingredients of its hair product components are as below:
Marine Collagen: It is obtained from scales of a codfish which is found in North Atlantic freshwater, it helps in providing protein and amino acids to hairs and promote scalp strength.
Sensoril Ashwagandha: reduces the stress levels of the body by balancing the stress hormones through lowering Cortisol, which is obtained from India.
Curcumin: Acts as an anti-inflammatory ingredient that contains the highest level of plant actives and is transported from India.
Horsetail: It is found to be rich in silica and is extracted from the horsetail plant which reduces hair thinning problems.
Resveratrol: Help in increasing the hair density and reducing the oxidative stress caused by the polluted environment by supporting the free flow of the bloodstream.
Kelp: It is useful for thyroid patients who are suffering from hair loss, as it boosts the metabolism rate and keeps your hair healthy, and maintains your hair texture, it is obtained from kelp beds in Iceland.
Saw Palmetto: It helps in reducing the DHT level in hairs and promotes progressive hair growth, it is obtained from the USA where it is grown in farms.
Tocotrienol Complex: It is used because of its concentrated Vitamin E form, helping in the opening of shrunk hair follicles, found to be stored in Palm trees of Malaysia.
Pros:
Nutrafol provides extensive hair health advantages to its customer and also have introduced some side benefits for its users, Now let's Nutrafol reviews its pros and cons:
Its hair products contain various certifications related to manufacturing, purity, and eco-friendly use.
It is a triple-verified hair product and has been clinically tested
Based upon hair science and adopts the continuous research works
The bio-optimized formula is used in its manufacturing
Has a core functioning team of Research scientists from prestigious research universities and is assured by 2500+ dermatologists.
Free shipping cost within US state delivery.
Its clinical studies are published in prestigious medical journals.
Cons
Expensive in cost in comparison to other hair products.
Some ingredients used in the elements demand some safety considerations for pregnant women like Saw Palmetto, selenium, etc.
Nutrafol Wellness Products:
From a hair growth product to liver supporting product, Nutrafol provides a wide range of wellness products with a holistic approach, here we have covered some of its popular products:
Nutrafol for Women Reviews: Under its women hair product brands, it offers two popular products known as Nutrafol Women and Nutrafol Women's Balance, let's have a quick review of these two products:
Nutrafol Women (Rating 4.3/5): It uses the Synergen Complex formula which contains 21 active blended ingredients which improve hair thinning formula and medical-grade nutrition.
Nutrafol Women's Balance (Rating 4.3/5): It helps to regain hair growth for the women who are undergoing per and post-menopause hair loss mostly women aging from 35 and above, the consumption of Women's balance helps in improving the metabolism, hormones, and stress, etc.
Nutrafol for Men reviews (Rating 4.1/5): Nutrafol Men helps in targeting the frontline hair receding problems, without affecting your sexual hormone which in the case of prescriptions-based hair products is badly affected. It helps in scalp coverage and increasing hair-density rate.
Other Products:
Nutrafol Hair biotic: It comes with a probiotic hair growth targeted formula L.reuteri, which is known to promote hair growing bacteria and nutritional retention with seven active probiotic strains,
Taking good care of your gut health that is hugely affected by Polluted environment and hormonal imbalances.
Nutrafol DHT Inhibitor: It prevents the excessive production of DHT which is formed due to the conversion of enzymes in our body, it reduces your hair growth cycle and shrinks your hair follicle, the product uses natural ingredients like African cherry, nettle root, etc. to control DHT level.
Nutrafol Sugar Balance: Nutrafol Sugar Balance product target the sugar imbalances factors in our body which could be a direct cause of inflammation and hormonal imbalances, it supports the essential glucose level and reduces our sweet eating cravings.
Nutrafol Liver Support: Nutrafol Liver support really provides strong support to your liver and helps to reduce oxidative stress and other toxic chemicals by flushing out the toxins and harmful lead that can fight free radical formations and formulates anti-oxidants in our body.
Nutrafol Results: Are they effective?
Nutrafol results are really record-breaking as it claims many men have seen thicker hair after its use and post-menopausal women have seen the hair growth:
83% users have seen the thicker hair density
72% users have seen better scalp coverage and growing hair at the crown.
80% users have seen improved hair growth.
Nutrafol Customer Reviews
After reading many reviews from Reddit and amazons, we have seen many satisfied customers who have shared real and honest reviews about using Nutrafol, According to them:
Amazon customers have been told that its subscription plans are according to their hair types, they have a customized service for customer support.
Many women after their menopause have shown effective results, a woman in her 20's has started losing the hair, started using the product, and has described her experience with the highest ratings.
Less Nutrafol bad reviews are there which includes some money back issues and shipping problems, however, there are only a few conditions.
Nutrafol Pricings and Subscription Plan: Under the Nutrafol Growth plan, it includes 1-on-1 consultations with expertise Dermatologist and experienced Doctors, you can also have the following offers under the plan:
MDs referrals
Lab-tested hair analysis for six months
Monthly-subscription plan after the hair quiz session with recommended hair product.
The average price is $79 per month Subscription Plan and $88 per bottle.
A 30-day money-back policy with a full refund
Experienced doctors and dermatologists will be under your contact and can help you with hair-related problems and product-related doubts with a deep analysis.
Nutrafol Discount code and Gift Coupon: Nutrafol discount codes are occasionally available on their website, and you can access them by frequently visiting their home page and also you can keep checking for its Nutrafol Coupon to get exclusive deals and offers.
Can we buy Nutrafol Amazon-based online sell?: Yes, Nutrafol is available on Amazon as a fairly rated product with an authentic product label and you can always check for its feasibility by scrolling down the amazon review page.
FAQ about Nutrafol Reviews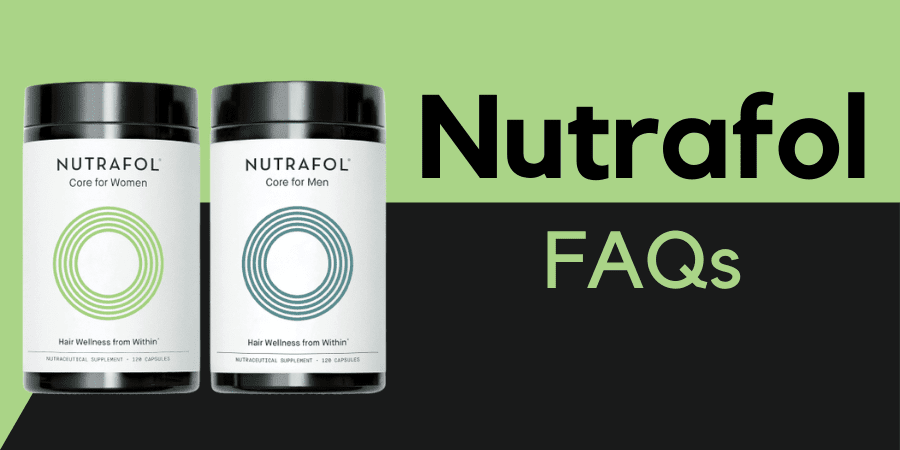 How long does it take to see results from Nutrafol?
It claims to give results within the use of three to six months, where:
1-3 months required for hair strength gain.
3-6 months for improving hair thickness
6+ months for better scalp coverage and fast hair growth,
Do Nutrafol provides a Halal certificate?
Yes, it provides an IFANCA HALAL Certificate for its users.
Is Nutrafol available for all hair types?
Yes, it has given an online Hair Quiz for its users and to get a prescribed hair plan.
What does the FDA say about Nutrafol?
FDA is a government organization therefore it is not authorized to claim benefits or drawbacks about any supplement.
Is Nutrafol better than biotin?
Yes, Nutrafol is better than biotin because it contains more vitamins and nutrients compared to biotin.
Is Nutrafol safe?
Yes, Nutrafol is completely safe to use as it uses only natural ingredients that are clinically tested.
What are side effects of Nutrafol?
Some people feel a little nauseated if they take it empty stomach so you must take it along with meals.
Nutrafol Contact
Pay a visit to Nutrafol's official website: Nutrafol.com or can email them.
My Final Verdict
During our Nutrafol reviews, we found that it is highly recommended by the top dermatologist and you can also take multivitamins along with Nutrafol, even after discontinuing the Nutrafol product, you can see its strong residual effect which promotes active growth of your hair plus it also helps in sustainable development and waste food management.
If you are looking for another comprehensive product analysis, you could also check out this Folexin Review