Keeps Hair vs The Alternatives: Falling hair is no doubt an increasing problem nowadays. Several times many people try to cover the empty scalp with a cap to hide their hair loss. It is very much frustrating and one of those problems which need to be solved. The busy lifestyle and bad food lead to many types of health issues and hair loss. Hair loss happens when the hair fall is more than hair gain. To mitigate the challenge, Keeps hair loos treatment provider is available in the market, which provides you variety of hair loss solutions. However, there are many more products are available on the market related to hair loss. To find out which one is the best in Keeps Vs the Alternatives we will compare keeps with various other alternatives.
Keeps vs The Alternatives – Comparison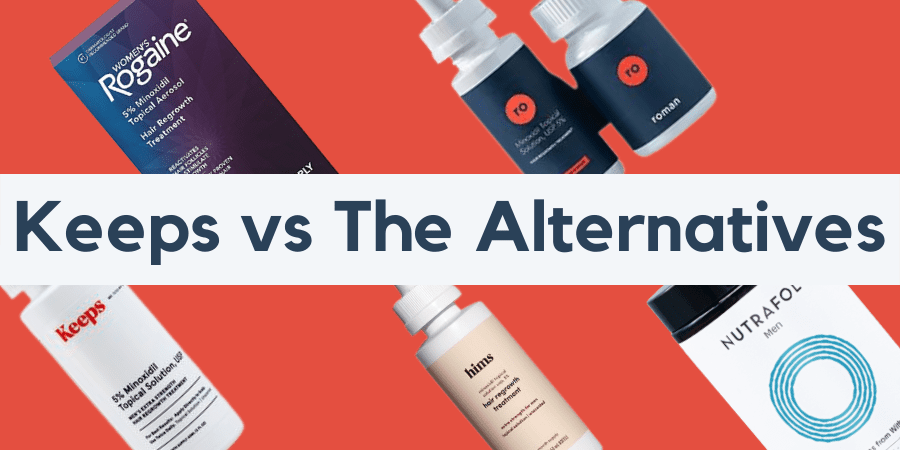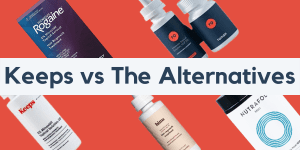 What is Keeps Hair?
Keeps for hair loss is an online service that includes telehealth with a monthly subscription plan. It is focused on hair loss treatment for men. Keeps sell three different products to mitigate hair loss. Keeps provide pills, topical solution, foam, shampoo, and conditioner. One of them is Minoxidil which is a topical solution. Then there is finasteride, which is a prescribed pill, and ketoconazole, which is a prescribed shampoo. These different products have different usages for their different customers.
Ingredients
Keeps products contain the ingredients finasteride, minoxidil, and ketoconazole. The Food and Drug Administration(FDA) has approved these ingredients for the treatment of hair loss.
Side Effects
Keeps hair loss solution is used by many customers. Till now there are no such side effects have been seen in these products. However, some side effects like skin rashes, blisters, and itching in the scalp have been found in some users.
Keeps vs Hims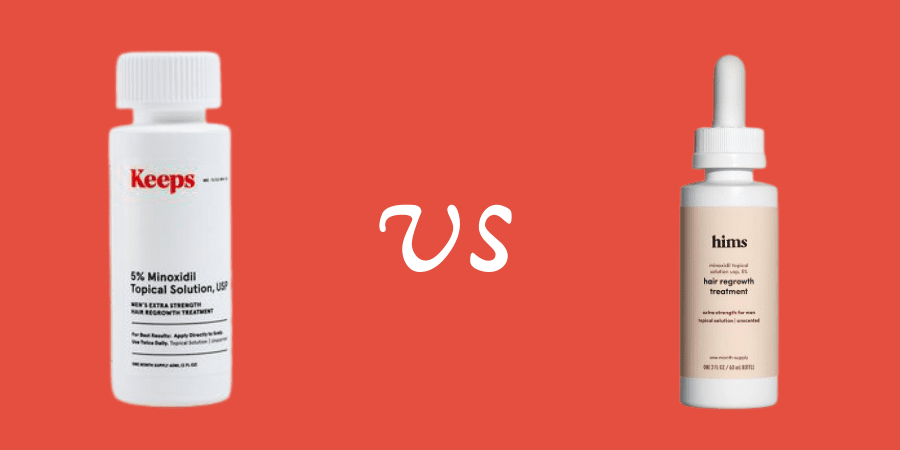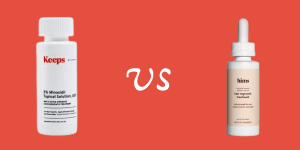 Now let's have a comparison between two hair loss brands Keeps vs Hims. Both the brands give the same products and both offer the subscription for hair loss for males. Hims offers little more products as compared to Keeps.
The men who want to have finasteride and minoxidil together in a hair loss treatment process can have a fast solution for hair loss. Keeps and Hims both have the combination of finasteride and minoxidil.
However, both Keeps and Hims are reputed brands and services but Keeps hair loss has come first in customer reviews. Keeps has better standard prices and great packaging. So one should go for Keeps for a better hair loss treatment.
Ingredients
Hims hair loss has the ingredients like sodium Xylenesulfonate, cocamide betaine, trideceth sulphate, cocamide mea, sodium benzoate, and cocamidopropyl betaine. These ingredients are FDA approved and have been used in such a manner that these perfectly work to treat the hair loss solution.
Side Effects
Hims is one of the most popular treatment processes of hair loss for men. There are not any side effects has been seen in this product. Nevertheless, people who have a little health issue can have side effects like light-headedness, headaches, blurred vision, etc. For the best solutions, one should check the ingredient list to use the product.
Both Keeps and Hims are great service providers on hair loss, but in the treatment procedure of hair loss keeps is mostly recommended.
Keeps vs Rogaine
Rogaine is a very much well-known name to everyone. It is considered a vasodilator. It works partially elongating the growth phase of hair and enlarging hair follicles. Its ingredients are FDA approved.
Ingredients
It uses Minoxidil in the main section of its ingredients including some others. It is very much powerful in mitigating the hair loss problem and growing new hair.
Side Effects
Rogaine has many side effects due to minoxidil. It can lead to skin redness, inflammation, itching in the scalp, unexpected hair growth on the face, etc.
Keeps vs Nutrafol
Keeps and Nutrafol both have handful products of for hair loss. Between both Nutrafol is one of the unique companies that give prominent treatment to hair loss. It gives many hair gain treatments to its customers. The three main Nutrafol products for hair loss are Nutrafol Women, Nutrafol Women's balance, and Nutrafol Men.
Ingredients
The ingredients that are used in Nutrafol are Super vitamin E, Cayenne Pepper Extract, Biotin, kelp, zinc, Vitamin A, C and D, Ashwagandha.
Side effects
The products of Nutrafol are very good to treat hair loss but it has some side effects, says some dermatologists. It includes nausea, cramping, diarrhea, etc. When it comes to side effects keeps has proven as a better product range than Nutrafol.
Keeps vs Roman
Roman is a telemedicine company. It provides an affordable and convenient hair loss treatment to its customers. They provide treatment from a doctor or a nurse.
It uses the ingredients like Finasteride, minoxidil, etc. However, many of the users have some positive results in using Roman hair loss treatment. It has some side effects. The side effects are itching, blisters, skin rash, etc.
Ingredients: Roman hair loss solution uses some of the most powerful and clinically proven ingredients that include finasteride, and minoxidil. The only problem with this hair growth product is that all its ingredients are chemical and pharmaceutical-based which may carry harmful side effects.
Side Effects: The major drawback about this hair loss product is that it uses pharmaceutical ingredients that may lead to serious side effects that you experience with minoxidil and finasteride.
Keeps vs Nioxin
Nowadays, Nioxin has become a big name in the industry of hair care because of its unique strategy of marketing. It also has high profile takeover. A famous FMCG company took over the Nioxin brand and after that Nioxin improved a lot in hair care treatments.
Nioxin serves three products that include scalp treatment, scalp therapy, and cleanser. The three products do wonder if used together.
Ingredients: Nioxin uses the ingredients like peppermint oil, antioxidants, amino acid, vitamin B, and white tea extract.
Side effects: Nioxin has some side effects that work as disadvantages of the usage of this product. The side effects are itching, irritation, scalp redness, sensation, etc.
Prescribed Alternatives
Keeps vs Finasteride
Finasteride is generally used as a treatment of enlarged prostate among men. It is also used in hormone therapy among women and transgenders. It helps support better urine flow.
However, it has become famous in the treatment method of hair loss. In the process of hair loss treatment in men, it stops dihydrotestosterone or DHT. DHT can stop the growth of hair in men.
Side Effects
Like other prescribed medications, finasteride also has some side effects like rashes, itching, low sexual ability, nipple discharge, trouble in breathing, etc…
Keeps use finasteride as an active ingredient in its hair gain treatment. In the process of making the medicine, keeps uses it with the blend of other ingredients. Thus, the finasteride does not give any negative effect on men if they use keeps.
Keeps vs Propercia
Propecia is another well-known prescribed medication to treat hair loss. It stops hair loss and starts new hair to grow. keeps and Propecia both are pills to treat hair loss with the same active ingredient.
Side effects
There is also a list of negative effects on the body of Propercia. They are low sex drive, runny nose, weakness, skin rashes, swelling in the face and feet. When a patient goes for an intake of the propecia he needs to contact a doctor and pay him. Whereas, to take keeps he will get a free doctor's consultation.
Keeps vs Minoxidil
Minoxidil is a generic version of rogaine. On the other hand, keeps also give medicines with minoxidil. Using minoxidil alone can cause many side effects but if mixed with other ingredients like in keeps it causes fewer side effects.
Minoxidil alone needs a medical prescription to use. But if it is used by keeps, there is not a prescription of a doctor.
Keeps vs Bosley
Both keeps and Bosley is the medicine for hair loss treatment. But the difference is in the price. Keeps and Bosley both use finasteride and minoxidil as their hair growth ingredients.
Nevertheless, as far price is concerned keeps is better than Bosley. keeps costs $45 to $50 per month whereas the medicines of Bosley costs $74.83 per month.
Keeps vs The Alternatives – Trio Comparison
Keeps versus Hims vs Roman – Which one is better?
If you are 25year old or more than aged male and suffering from a hair loss issue, you must have seen tons of hair loss preventing treatments around. There is a conflict between Keeps vs Hims vs Roman to become your first choice.
Well, the medicines all these three telemedicine providers give are legitimate and FDA-approved. All three companies are telemedicine companies. The ingredients they use are Finasteride, minoxidil, etc.
Nevertheless, Hims and Roman medicines have some side effects. Where keeps hair loss medications have fewer side effects.
Keeps hair loss is a legitimate hair repair treatment it is a telehealth service, which has gone through many types of research. If asked keeps or Hims vs Roman, keeps will always be recommended.
All the three keeps, Hims and roman give a proper hair treatment to users. But for hair loss we recommend keeps right now. keeps works and mixes the ingredients in a balanced way. Whereas the ingredients in Hims and roman have shown some side effects.
Keeps is an excellent telemedicine provider for hair loss. At the same time, if compared to Roman vs Hims, both of them are also good service providers. Hims offers an amazing prescription hair power pack. At the same time, roman also provides effective hair medicines. All three typically provide the same general remedy as minoxidil. Hims give a daily biotin vitamin to its customers.
As compared to Hims and Roman, Keeps has been proven the best because Hims and Roman both have some significant side effects.
Keeps vs Hims vs Rogain – Which one is better?
Comparing Keeps vs Hims Vs Rogaine is a little difficult, Rogaine is an old brand in the market where keeps and Hims are new. Both Keeps and Hims have come up with medicines that have minoxidil. Studies say that this is very much effective for hair growth.
On the other hand, Rogaine has gone through many studies. It has also a significant effect on hair loss treatment. But some people who are suffering from some certain health issue should avoid rogaine.
At keeps, if you follow the instructions about how to take the medicines, you can see the growth of hair within few days. Thus, in Keeps vs Hims vs Rogaine, keeps is the best.
Rogaine offers both liquid /dropper solution and foaming. But Hims only offers the dropper-delivered drugs. So if someone prefers foam rogaine is a clear choice.
On the other hand, at Keeps if someone takes finasteride tablets as directed by the manufacturer, he/she can see significant growth in hair.
Many researchers suggest keeps and Hims both as a useful treatment method for hair loss. But they give different circumstances too on who should use it. As per much research, keeps has been proven as a safe treatment method for hair loss.
Keeps have a focus on the treatment of hair loss and all of its treatments, it saves your money.
Keeps vs The Alternatives – My Final Verdict
Overall, we have found that in the market there are lots of hair loss treatment brands are available. You have to go through many promotions of many hair gain products. Here, in the comparison of keeps vs its alternatives we have gone through all those products that are compared online with keeps. However, keeps has more plus points than others, we really cannot ignore the plus points of other products.
The choice is completely yours but according to me, keeps has fewer side effects than others. So for a hair loss treatment process, I recommend keeps. One should always go through all the positive and negative parts of the product before using it.