Are you losing your hair every day as you swipe your fingers through your hairs? It is normal to lose a few hairs but they normally should grow back. If you are just losing them and they are not growing back, it is a signal that you're moving toward baldness and you need to take it seriously. Viviscal is one such prominent product that can be an aid to your condition. This Viviscal reviews is all about exploring this popular product for both men and women to help them regrow their hair naturally. So let's start exploring.
Viviscal Reviews 2023 – An Overview

Viviscal Reviews 2023: Viviscal is an extremely popular hair regrowth formula that works inside out to make your hair grow back. It is a complete two-step hair growth and care system that includes a dietary supplement, densifying elixir, shampoo, conditioner, concealing & densifying fibers. Both topical and dietary supplements of Viviscal are completely formulated with 100% natural ingredients that include essential vitamins and minerals for hair regrowth.
The topical products work in combination with the dietary supplements to make your hair grow back, along with making them dense, long, smooth, and shiny. The product combo of Viviscal that includes a dietary supplement, shampoo, conditioner, and elixir, works for both men and women. Viviscal has separate product combos for men and women as if you are a man, you don't need conditioner and elixir until you are planning to grow them really long.
For Men: It is well known that both men and women suffer from hair loss but in men, it is much more common. The main reason for this is the higher production of DHT in males compared to females. Viviscal Men's formula is an especially formulated dietary supplement for men that includes flaxseed extract, a powerful DHT blocker.
For Women: Initially, Viviscal was known to produce hair growth solutions for women and therefore the company is experienced in manufacturing hair growth products for women. The women's formula is quite different from men's formula in regard with the ingredients used and more range of products such as conditioner and elixir.
Viviscal Hair Growth Product Range
Viviscal's main product is the dietary supplement for hair regrowth in both men and women. But in recent years, the company has launched various new products to provide intensive care to the hairs.
Viviscal Extra Strength Hair Nutrient Tablets (For both men and women).

Viviscal Gorgeous Growth Densifying Shampoo (For women).

Viviscal Gorgeous Growth Densifying Conditioner (For women).

Viviscal Gorgeous Growth Densifying Elixir (For women).

Viviscal Man Full Force Fortifying Shampoo (For men).
Viviscal Ingredients
Viviscal products, especially the dietary supplements are formulated with 100% natural ingredients that are safe and free from any possible side effects. Here are some main ingredients listed below:
Shark cartilage
Acerola cherry
Flax Seed extract
Zinc
Oyster
Horsetail extract
Vitamin C
Calcium
How Does Viviscal regrow lost hair?
As we already mentioned above that supplement for hair growth is formulated with all essential minerals and vitamins, the main product of Viviscal, the dietary supplement works by strengthening the hair roots. When your hair roots or follicles are strengthened, the chances of new hair fall is restricted.
(viviscal shampoo reviews, viviscal pills, viviscal reviews dr. oz, negative side effects of viviscal)
The dietary supplement also helps in regulating the proper circulation of blood to the hair roots that rejuvenates the cells to initiate the growth of new hairs. Other products of Viviscal such as shampoo, conditioners, and elixir helps in nourishing the newly grown hairs.
Viviscal Reviews: A combination of all these products formulated with essential hair growth vitamins overall helps in restricting hair fall, and growth of new hairs along with nourishing, densifying, strengthening, and providing a shiny look to the newly grown hairs.
Pros:
The supplements are easy to digest and mild on the stomach.
It helps in promoting the growth of healthy hairs.
The product has been proven to work for the majority of its users.
There are no reported possible side effects.
Cons:
There are few shipping related issues with the company.
The price is quite high if bought lower packages.
The dietary supplements might leave a bitter taste.
Does Viviscal Really Work?
Viviscal Reviews 2022: If you want to find out whether the Viviscal hair growth vitamins work or not, it can be perfectly judged through the list of satisfied customers. Viviscal is available in the market for a very long time and in this time period, it has risen a lot in popularity and cultivated a vast and satisfied customer base.
There are numerous clinical trials conducted to find out the efficiency of this hair growth product. And every trial has proven that Viviscal hair growth vitamin supplements is a prominent product to regrow hairs, prevent baldness and maintain healthy hairs.
The product has an amazing 90% success rate that is much higher for a product with an enormously large number of customers. Most users reported that this hair growth vitamin supplement has helped them growing back healthy, dense, and shiny hairs. Overall, Viviscal is one such amazing hair growth product that really works for every user.
What are the side effects of taking Viviscal?
You the ingredient label of the Viviscal indicates that it is a natural supplement, the company guarantees that it does not possess any side effect. But you are also advised to follow recommended dosage while using dietary supplement to avoid any possible side effects. Still, there are some side effects that you should consider before using Viviscal.
The dietary supplement has only one disadvantage that it mainly includes sea ingredients therefore it leaves bad taste while swallowing and when used for a long time, it can kill your taste buds. Also if you are allergic to fish products then you should avoid using this product. Other possible side effects include stomach upset, nausea, and vomiting.
Viviscal Reviews, Before & After Results:
There is no doubt that Viviscal is a popular hair growth product with a large number of satisfied users. It has received amazing ratings on various platforms because it has helped lots of people to get back their lost hair and overcome the baldness. But it's a variety and range of products has also become a reason of complaint to it. Many users have reported that there are so many variants that it is very confusing to buy it on outside official website. Also some users have complaints regarding to delay in shipping. But these are the common setbacks with popular products. Overall, existing users have rated Viviscal positively.
Viviscal Reviews – FAQs
Is Viviscal safe to use?
Yes, all the products of Viviscal are completely safe to use as they are formulated with natural ingredients and does not possess any side effects.
Does Viviscal really regrow hair?
Yes, it is an extremely popular product that have been proven to help in re-growing the hair and prevent your from the situation of baldness.
Who can use this product?
Anyone above the age of 18 can use this product. But if you are pregnant or breastfeeding then you should avoid using it or consult with your doctor.
How to use it?
The supplements are meant to be taken twice a day. You can take one tablet with water, two times a day for at least six months for prominent results.
How long until I see results from Viviscal?
According to the official website, you could expect noticeable results after 4 weeks of usage. For prominent results, you must use it for not less than 6 months.
Is there any scam?
It is has been reported by many people that they have been scammed by imitation or duplicate Viviscal product with similar names. Therefore, it is advised to check wisely before placing your order.
Does Viviscal put on weight?
Well, there are rumors that using Viviscal for a long time can put on weight. But the company has disowned all these claims as there are no such ingredients used in the formulation that can put on weight in healthy users. Although, if you suffering with any health condition or disease, then there are possibilities that you put on weight.
Can I buy Viviscal on stores like Walgreens or Amazon?
Yes, the product is available for sale on Amazon and Walmart. But you cannot trust the legitimacy of the product as the suppliers on these stores are not trustworthy.
Viviscal Price, Packages & Promo Code
Viviscal has different pricing and saving options according to products and packages, different for men and women. Also one of the main complaint about this product is their unclarified pricing and packages. Therefore, I have tried to list all of them in a simplified way.
Single Product Pricing –
Viviscal Hair Growth Supplements – $44.99 (1 Month Supply), $124.97 (3 Month Supply).

Women Shampoo – $7.99/pack.

Conditioner – $7.99/pack.

Elixir – $17.99/pack.

Man Hair Growth Supplement – $44.99 (1 Month Supply), $124.97 (3 Month Supply).

Men Shampoo – $7.99/pack
Subscribe & Save –
Viviscal Nourishing Starter Kit for women – $39.99/month (Subscription includes the monthly supply of dietary supplement) + Get 6 Free Gifts Worth $80 (Full-size elixir pack, 2 hair masks, 3 travel pack of shampoo, elixir and conditioner, hair brush, hair ties, and cosmetic bag)
Viviscal Men Entry Kit – $39.99/month (Subscription includes a monthly supply of dietary supplement) + 2 Free gifts (Bottle of shampoo and guide to men's hair)
Viviscal Men Deluxe Kit – $46.99/month (Subscription includes monthly supply of dietary supplement & shampoo) + 2 Free gits (Complete men's grooming kit and guide to men's hair)
Special Discount Offer –
10% Off on orders of $50 or more.
20% Off on order of $75 or more.
30% Off on orders of $100 or more.
Where To Buy Viviscal?: If you are planning to buy any supplement, it is always best to place your order from the official website. This guarantees that you are going to owe the legit product without getting scammed. Although, you can buy Viviscal from other stores like Amazon, but you cannot be assured of the legitimacy of the product as the suppliers are not trustworthy. When it comes to Viviscal, the official site has an huge saving option. If you subscribe to the 6 month supply, you can save up to 50%. It is a good option to subscribe when you need to use the supplement for a long time.
Viviscal Reviews – My Final Verdict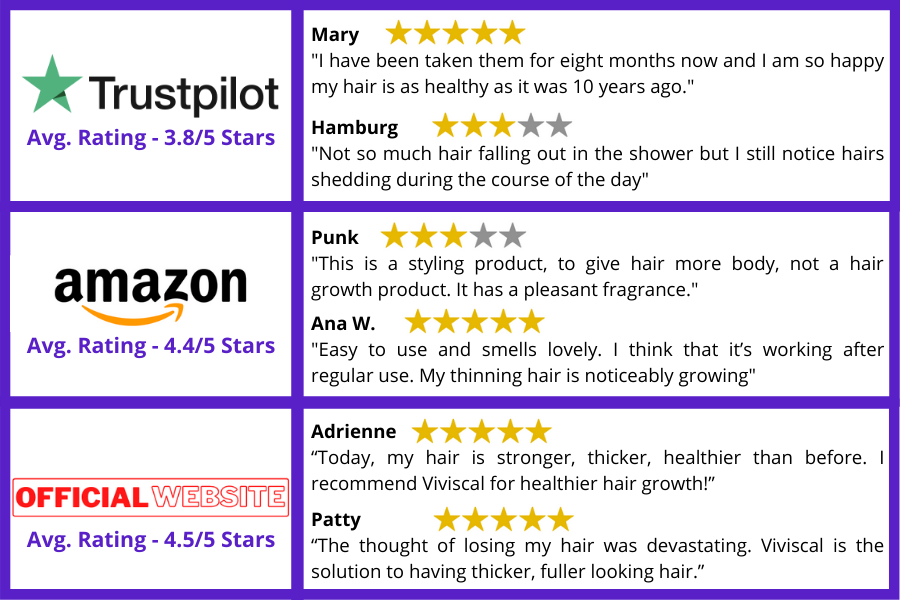 Frankly saying, I am a great fan of Viviscal hair growth products. The product is very much popular and claimed to be the best available products for hair growth and care. There is not only one thing that has impressed me about Viviscal rather there are lots of reasons. The product is popular, offers a variety of product range, uses high-quality ingredients, rated positively by the existing users, and has been proved to provide effective results. Overall, Viviscal's popularity is not a marketing hype rather it is really a worthy hair growth product.