Are you also forced to wear a cap to hide your empty scalp? Falling hairs is no doubt one of the most embarrassing conditions that need an instant solution. Viviscal is one such popular brand that is claimed to help you in regrowing your hair naturally without any side effects. But it is not the only supplement on the market, there are various other popular names with similar or bigger claims. Therefore, I tried to compare all popular products in this Viviscal vs the alternatives to find out whether these alternatives are actually better than Viviscal? So, let's start our comparison.
Viviscal vs The Alternatives – What is Viviscal?
Viviscal is a popular haircare brand on the market that is known to produce some high-quality supplements and products for men and women to counter hair loss.
As per the official claim, Viviscal products are immensely popular and in demand as it has sold more than 4 million packs of Viviscal products in more than 43 countries.
Talking about the core product of Viviscal brand, the hair vitamin supplement, it is specially designed to enrich hair scalp with all essential nutrients to prevent hair loss and promote new hair growth.
Read our detailed review on Viviscal for more information
Ingredients
Viviscal uses few selected but some of the most powerful ingredients in the formulation that are proven to be beneficial in improving hair health. These ingredients include Shark cartilage, Mollusk powder, Fish oil, Silica, Biotin, Niacin, Vitamin C, and Zinc.
Side Effects
Viviscal is claimed as the safest hair loss supplement due to its high quality, natural formulation but still few side effects are reported such as skeletal stiffness and nausea.
Viviscal vs The Alternatives – Top 16 Products Like Viviscal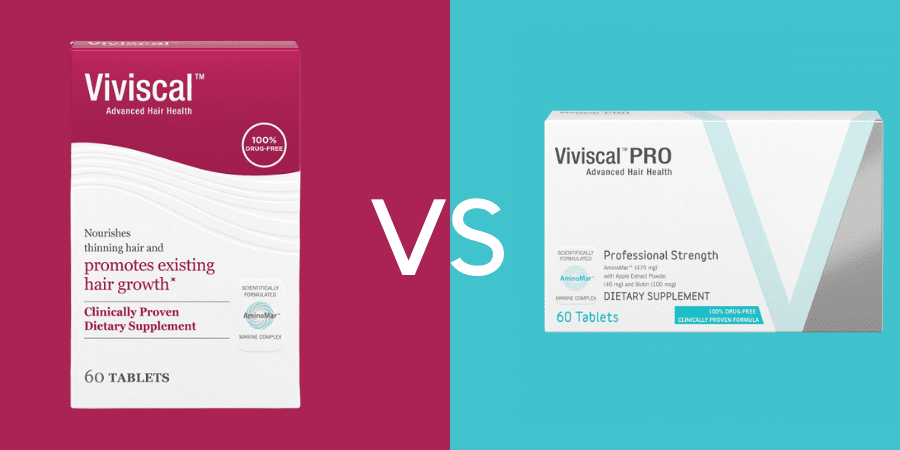 Viviscal vs Viviscal Professional
To start our comparison with the Viviscal alternatives, let's first compare it with its counterpart, Viviscal Professional. Viviscal Professional or Pro is an advanced version of Viviscal supplement.
Being an advanced and upgraded version, it's sure that it is going to be more effective and beneficial compared to the older version. Viviscal Professional carries 3 extra ingredients that make it more powerful and effective.
But this doesn't degrade the Viviscal Original as it is effective in hair loss whereas Viviscal Pro is specially designed for professional use.
Ingredients
As mentioned above, Viviscal Professional also uses the same natural hair vitamin ingredients that are used in Viviscal Original. There are three extra ingredients that are added to the professional version to make it more powerful. These three ingredients are Apple extract, L-Cystine, and L-Methionine.
Side Effects
Both Viviscal original and professional are formulated with the same clinical research, the chances of possible side effects are very low. But it is recommended for professional use, it is best to use after an expert's advice.
Viviscal vs Folexin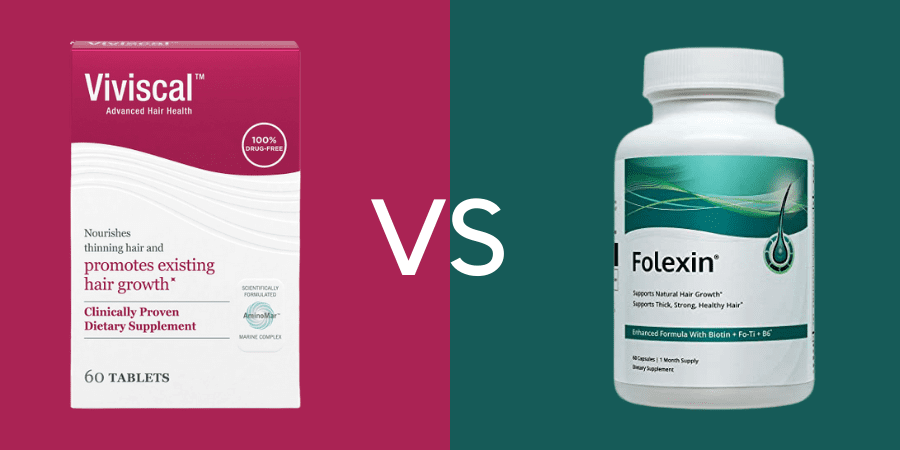 Folexin is one such hair growth supplement that is uniquely formulated with all-natural and organic ingredients. The supplement was initially introduced in the market with the name Foligen, but later in the year 2018, it was rebranded as Folexin because there were many other hair supplements in the market with the similar names.
In this rebranding, the company also upgraded its formulation by adding some new and powerful ingredients that are duly approved by the GMP and FDA. The popularity of Folexin can also be understood by the fact that it has been featured on Dr. Oz Show.
Read our detailed review on Folexin for more information
Ingredients
Folexin carries one of the most powerful formulations in the hair growth supplement industry as it uses 19 different types of organic and natural ingredients such as Biotin, Folic acid, Ascorbic acid, Fo-Ti, seven types of vitamins, and 8 types of minerals.
Side Effects
When a supplement uses such a high of ingredients, there is always a possibility of side effects. In the case of Folexin, it is advised to check the ingredient list carefully to find any ingredient to which you are allergic.
Viviscal vs Provillus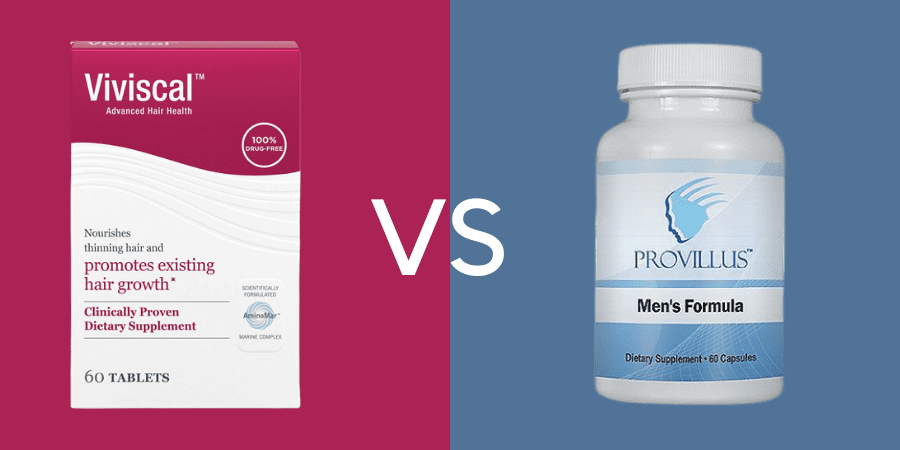 Those who are long-time users of hair growth supplements might be familiar with this name and must have tried it once. Provillus is one of the oldest available supplements for hair loss prevention and regrowth.
In the long run, Provillus has gained immense popularity and fame in the market along with millions of users all around the world.
It is similar to Viviscal as it also has different supplements for men and women. The supplement is claimed to be 100% naturally formulated but the fact is that it also uses FDA approved formula Minoxidil.
Read our detailed review on Provillus for more information
Ingredients
Provillus has maintained its traditional formulation of 13 different ingredients such as Vitamin B6, Biotin, Magnesium, Horsetail Silica, Para-Amino Benzoic acid, Zinc, Saw palmetto, Muira Puama, Eleuthero root, Stinging nettle, Pumpkin extract, Uva-ursi, and Minoxidil.
Side Effects
If you go through the ingredient list, it seems to be a completely safe supplement. But it is also a fact that due to the usage of Minoxidil, the possibility of side effects are increased and overdosage may lead to severe side effects.
Viviscal vs Nutrafol
Nutrafol is one of the most fastest-growing hair growth supplements that works for everyone, regardless of gender and age. The product is considered one of the best hair loss supplements because it has been developed by the personal experience of the owner.
His experience with hair loss and knowledge of nutraceutical supplements introduced this powerful supplement. The experience of the owner with side effects from the use of over-the-counter products is claimed to be reflected in this supplement that is formulated with all-natural ingredients.
Ingredients
Nutrafol also uses few quality ingredients and few of them are medical-grade ingredients. The eight ingredients used in the formulation are Saw palmetto, Marine collagen, Sensoril ashwagandha, Curcumin, Tocotrienol complex, Horsetail, Kelp, and Resveratrol.
Side Effects
Nutrafol is claimed to be 100% safe from any possible side effects but it uses some medical-grade ingredients that may cause few side effects like nausea.
Viviscal vs Nourkrin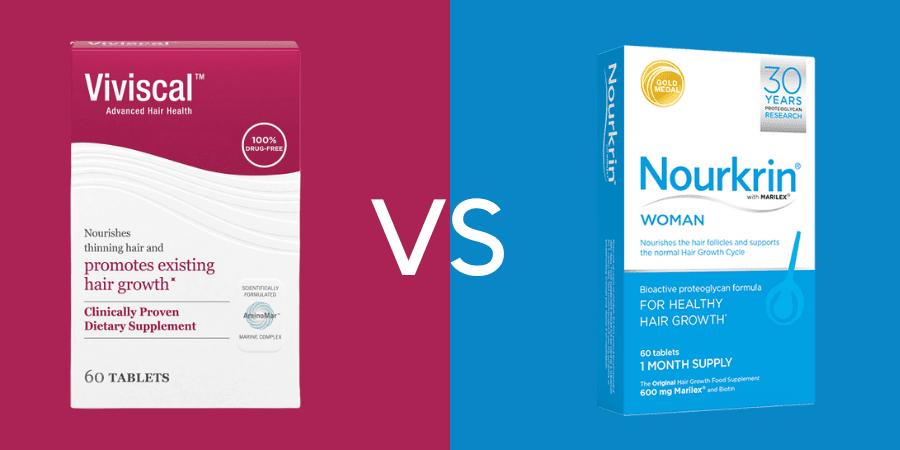 Nourkrin is another popular hair loss prevention supplement that has also extended its wings to other hair care products like shampoos and lotions.
Talking about its supplement version, the company has different supplements for males and females. As per the official claims, the supplement is promoted as a natural preventive mode against hair loss.
The supplement uses a pretty good-looking ingredient list. The supplement is a herbal supplement and it is not available over the counter.
Ingredients
Nourkrin uses nine different ingredients that contain both organic and marine origins. The ingredients used in the formulation are Shark cartilage, shellfish, acerola cherry extract, silica, horsetail extract, IgG protein, Microcrystalline cellulose, magnesium stearate, hydroxypropylmethylcellulose, and fatty acids.
Side Effects
Though the product is claimed to be safe from any possible side effects, there are few reported complaints about the side effects from the real users. The supplement is also unsafe for vegans as it uses marine-origin ingredients.
Viviscal vs Keranique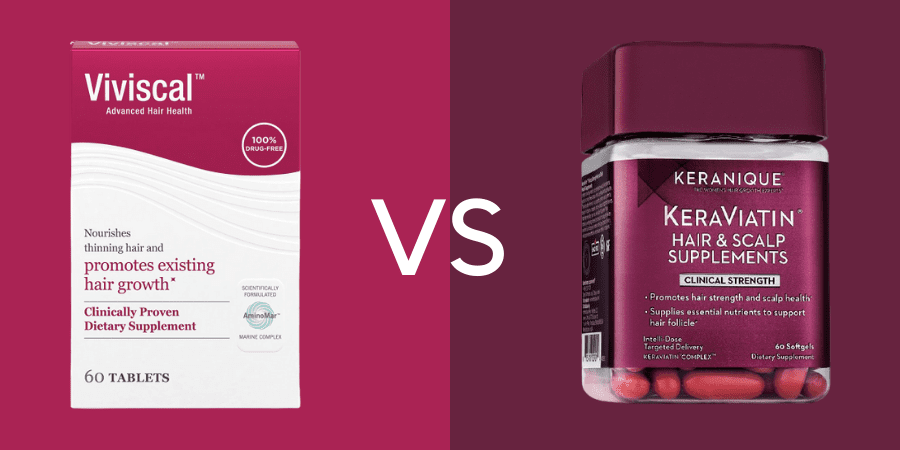 Keranique is one of the most popular hair care brands on the market. There should be no doubt about its popularity as it has about 1 million followers on Facebook and Instagram along with being featured on Glamour and The New York Times.
Keranique is promoted are best selling hair growth product. It is actually a combination of four different types of hair products that includes scalp stimulating shampoo, volumizing keratin conditioner, follicle boosting serum, and repair treatment spray. These products combinedly work in promoting the growth of new hairs.
Ingredients
All the products of Keranique use high-quality ingredients that are categorized in three different complexes and blends, Pro-Vitamins, Keratin Amino Complex, and Advanced Biotin Complex. These clinically proven ingredients are noted to be effective in the growth of new hairs.
Side Effects
Keranique doesn't disclose all the ingredients used in the formulation and therefore chances of getting side effects are very much possible. It is possible to experience irritation and itching in the scalp and frequent hair loss initially.
Viviscal vs Hair La Vie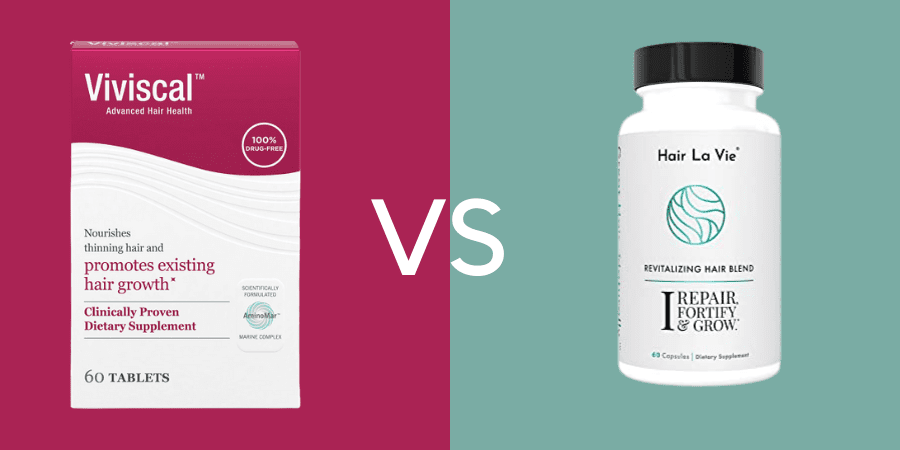 Hair La Vie is a hair care product brand that is owned and manufactured by Muse Beauty, located in Los Angeles. The products of Hair La Vie are a few of the most trending hair products on the market.
The product line of Hair La Vie is quite long but only four of them are actually popular that include Hair La Vie Clinical Formula Hair Vitamins, Revitalizing Blend Hair Vitamins, Hair La Vie Shampoo, and Hair La Vie Conditioner.
All the products are claimed to be free from sulfates, synthetic fillers, preservatives, dyes, and parabens. Like Folexin, it also uses all-natural ingredients.
Ingredients
Being formulated with all-natural ingredients Hair La Vie Clinical Formula supplement uses Reishi mushroom, amla, flaxseed, bamboo stem, saw palmetto, vitamin D3, and Zinc. The revitalizing blend supplement uses organic kelp, horsetail herb, collagen, borage oil, and iron.
Side Effects
Though the product is claimed to be 100% safe from side effects, some reported complaints from the real users proved that it has damaged their hair along with causing breakage and dried hair.
Viviscal vs Nioxin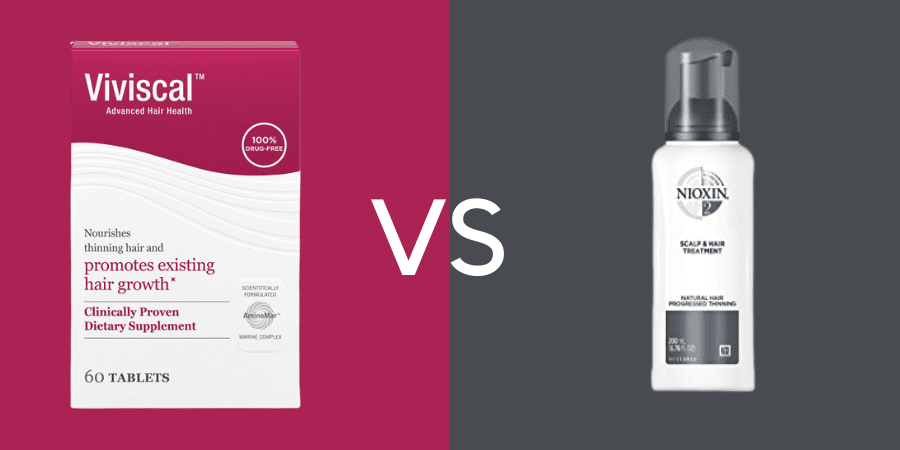 Today, Nioxin is a big name in the hair care industry due to its marketing strategies and high-profile takeover. Proctor and Gamble, a renowned FMCG company has took over this popular hair care brand over a decade back and since then it has continued working on improving the formulation and quality along with hyped promotions.
Nioxin includes 3 products in its combo that includes a cleanser, scalp therapy, and scalp treatment. The combination of these three products are claimed to help in rejuvenating the scalp to prevent hair loss and promote new hair growth.
Ingredients
Since P&G's took over, Nioxin has experienced extensive up-gradation in its formulation with the addition of few more powerful ingredients such as white tea extract, peppermint oil, essential Vitamin B, antioxidants, and amino acids.
Side Effects
Nioxin does carry some reactions and side effects that degrade the acceptability of this product. Few reported side effects are tingling sensation, scalp redness, itching, irritation, brittle strands, and frequent hair fall.
Viviscal vs Priorin
Priorin is an extra hyped supplement that is claimed to boost the growth of new hair faster than any other supplement. The supplement is manufactured by a renowned pharmaceutical company, Bayer.
Priorin is claimed to be a perfect solution for those who are suffering from frequent hair loss. This supplement helps in stimulating the growth of new hair through its so-called high-quality formulation.
Being produced by a pharmaceutical company, it is assumed that it would be formulated with chemical ingredients but the company clarifies that all the ingredients used in the formulation are 100% natural.
Ingredients
Priorin uses all-natural ingredients in its formulation that includes herbal extracts, vitamins, and minerals. Some prominent ingredients included in the formulation are biotin, L-cysteine, millet extract, and calcium.
Side Effects
There are few ingredients used that may carry some possible side effects. It is reported by the users that they experienced side effects like rashes, fever, headaches, drowsiness, and low blood pressure.
Viviscal vs RenewGlow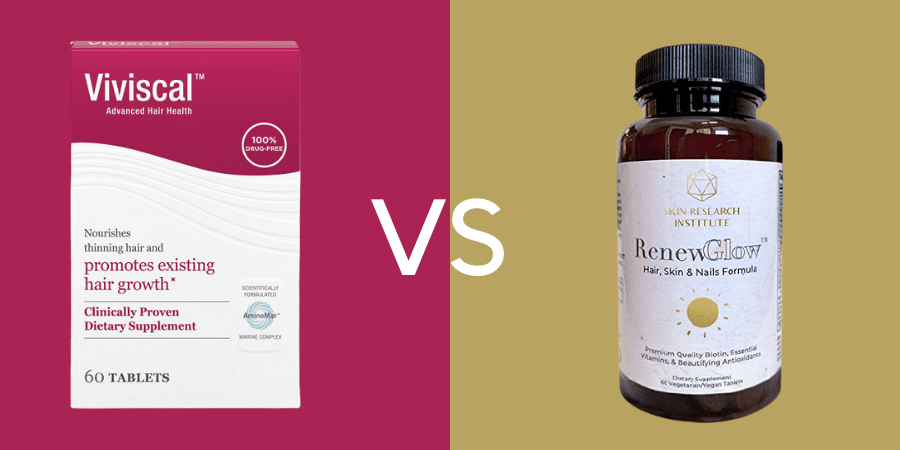 Renew Glow is a haircare supplement that claims to nourish your scalp to prevent usual hair loss and stimulate the growth of new hair.
As per the official claims, the supplement is formulated with all-natural ingredients that help in nourishing your hair and provide fuller and thicker hair.
RenewGlow is manufacture by The Skin Research Institute that is founded by highly professional scientists from Harvard University. The institute is the home of top-level professionals and wellness experts who have worked with various dermatologists and nutritionists.
Ingredients
The ingredient list of RenewGlow is quite promising as it uses 100% natural and high-quality ingredients such as Biotin, Gotu kola, Alma, Pantothenic acid, Selenium, Zinc, Grape seed extract, Silica, manganese, copper, and Vitamin E, C, and B6.
Side Effects
The company claims that the product carries zero chances of side effects, but it is also a fact that it uses biotin in very high quantity that raises the chances of getting encountered to few minor side effects.
Viviscal vs Hairfinity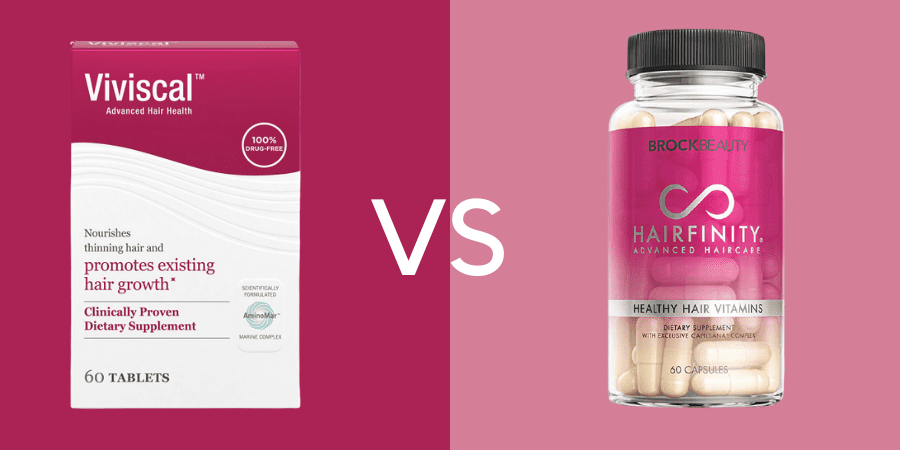 Hairfinity pills are dietary supplements that are specially formulated to prevent your hair loss along with promoting new hair growth.
As per the official claims, the supplement works inside out to provide complete nutrition to the scalp for natural hair growth. The ingredients used in the formulation of Hairfinity helps in nourishing, protecting, and stimulating the scalp for hair growth.
The supplement is manufactured by a pretty known brand, Brock Beauty. The owners of this company are Brock and Tymeka, who started this brand in the year 2006.
Ingredients
Hairfinity uses some high-quality ingredients that are known to help in boosting the growth of new hair. The ingredients used in the formulation are Vitamin A, Vitamin B12, Vitamin B complex, Vitamin C, Vitamin D, Biotin, Silica, MSM, and Capilsana complex.
Side Effects
Like other supplements, this hair growth vitamin also carries few side effects that you must know before using it. Some common side effects are stomach aches, constipation, bloating, excessive gas, and frequent urination.
Viviscal Versus Perfectil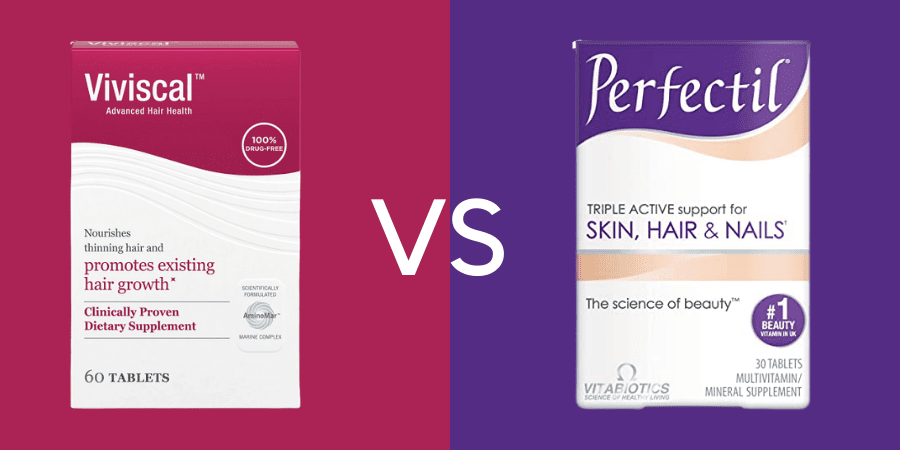 Perfectil is not a dedicated hair growth supplement rather it is a multivitamin supplement that is designed to achieve the optimal beauty hidden inside you.
The supplement helps in nourishing your body to provide healthy skin, hair, and nails. Perfectil doesn't claim to prevent hair loss or promote the growth of new hair.
It frankly claims to support maintaining your beauty with glowing skin, healthy normal hair, and beautiful nails. The supplement is formulated with 100% natural ingredients that include various essential vitamins, minerals, and antioxidants.
Ingredients
Perfectil uses 20 natural and powerful ingredients in its formulation that includes biotin, selenium, zinc, riboflavin, niacin, grape seed extract, thiamin, folic acid, magnesium, iron, copper, manganese, chromium, Iodine, L-cysteine, and vitamin D, E, B6, & B12.
Side Effects
Being a multivitamin supplement, it does not possess any type of side effects therefore it is completely safe to use. But it is better to consult with your doctor if you are suffering from any health condition.
Viviscal Versus SugarBear Hair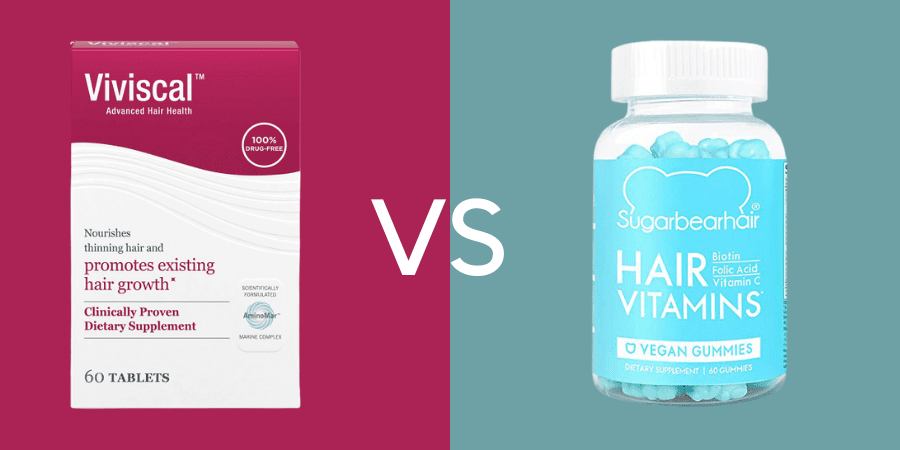 SugarBear Hair is a renowned hair care supplement that immensely popular in the market due to its formulation. Different from other hair growth supplements, it is a first-ever hair growth gummies that are easy to consume and delicious.
SugarBear Hair gummies are claimed to be formulated with natural vitamins, real berries, and natural sugar. The company was founded about half a decade back in the year 2015 by Dan Morris and Nicole Nightly. In a very short period of time SugarBear Hair has become very popular on the market.
Ingredients
SugarBear Hair gummies also use all-natural ingredients such as glucose syrup, pectin, sugar, citric acid, titanium oxide, sodium citrate, coconut oil, carnauba wax, biotin, folic acid, vitamin A, C, D, E, B6, and B12.
Side Effects
The supplement is claimed to be free from any possible side effects but the fact is a little bit different. Some users reported side effects like drowsiness and stomach aches. Also, it contains sugar that is not safe for diabetics.
Viviscal Versus Biosil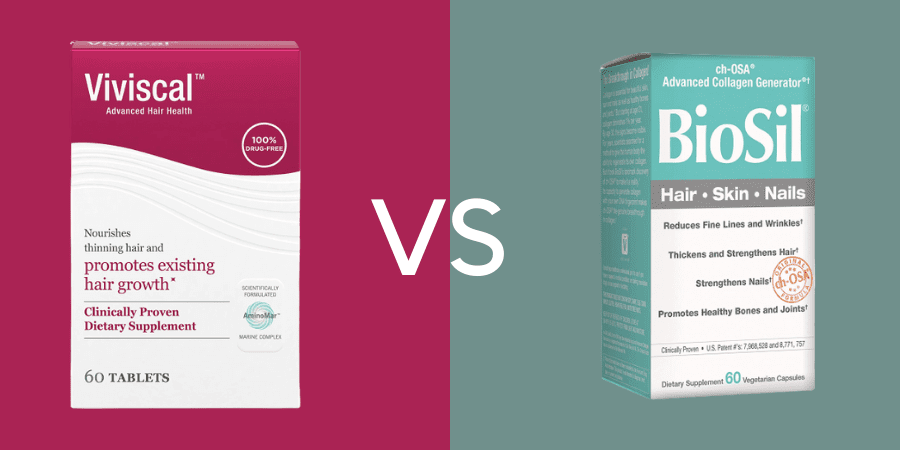 BioSil is again a multivitamin supplement for overall beauty and rejuvenation that helps in providing healthy skin, hair, and nails. The supplement supplies essential nourishment for keratin, collagen, and elastin.
The company claims that the supplement also helps in promoting healthy joints, reduces fine lines, and wrinkles along with main benefits for skin, hair, and nails.
The best thing about BioSil is that it is not a pill rather it is available in drops that you required to drink with water. The supplement is also safe for vegans as it does not includes any animal products.
Ingredients
BioSil uses several ingredients in its formulation but it doesn't disclose the complete list of the ingredients used. The main ingredients used as per the official website are Choline and Silicon.
Side Effects
Though it seems to be safe from possible side effects, but when a product hides its complete formulation, there are always the chances of getting possessed to side effects.
Viviscal Versus Biotin (Organic Mention)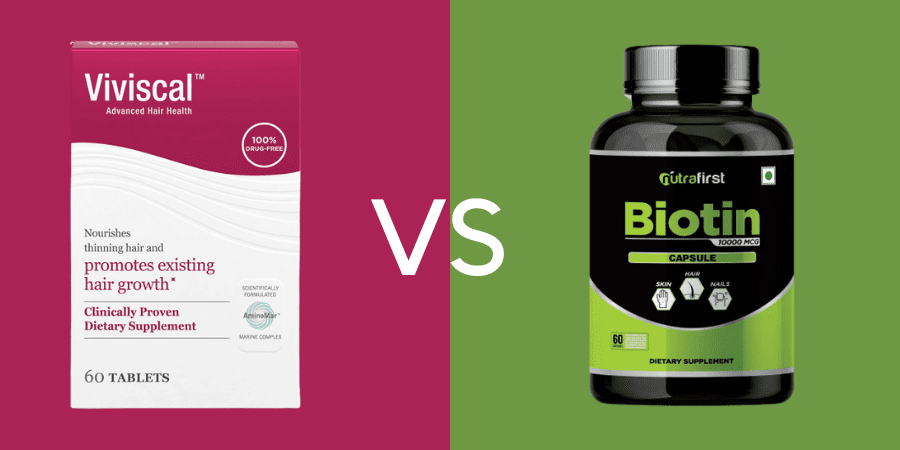 Biotin is a natural compound or you may say a form of the vitamin that is known for its healthy effects on hair and scalp. Almost every hair care product uses this vitamin in its formulation as a main ingredient, potency may vary.
This vitamin is naturally found in several common foods like milk, banana, and eggs. It is scientifically proven that Biotin deficiency may lead to frequent hair loss and brittle nails. Biotin works by breaking down fats and carbs stored in the body through the enzymes found in it.
Side Effects
Biotin is a natural compound therefore there are no severe side effects related to its usage. Although, it is always recommended to use it in moderation or else consult with your doctor for the appropriate dosage. It is best to use supplements that contain biotin in moderate amounts.
Comparing Viviscal With Top 3 Prescribed Alternatives (Bonus)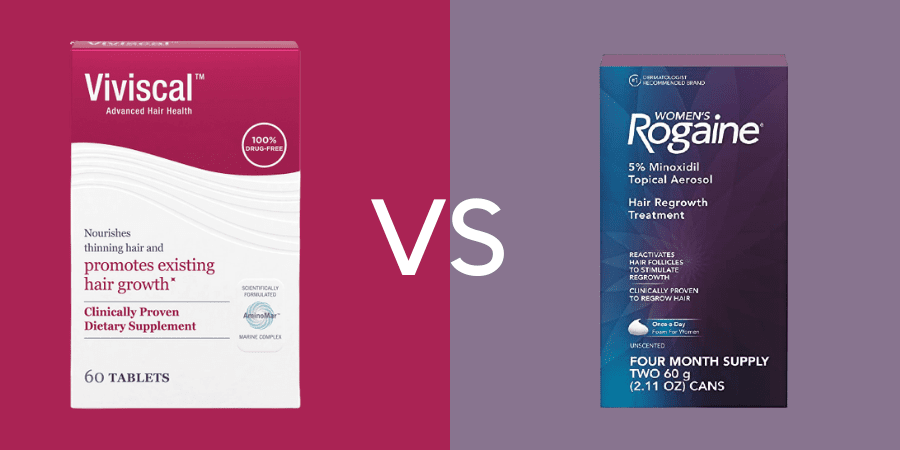 Viviscal versus Rogaine (Minoxidil)
Rogaine is a very popular name to which almost every one of us might be familiar. It is actually a brand name to the FDA-approved ingredients, Minoxidil that has been commonly recommended and prescribed to stop hair loss.
Rogaine is an over-the-counter topical solution that is very commonly used by those who are suffering from hair loss or trying to grow new hair.
It uses Minoxidil as its main ingredient with a few other extracts and compounds. The effectiveness of Rogaine cannot be ignored as it is proven to help in stimulating new hair growth, promote hair density and thickness.
Side Effects
There are numerous side effects that you can expect with the usage of Minoxidil or Rogaine. Though it is effective, minoxidil may lead to acne, scalp burning, unexpected growth of facial hair, inflammation, skin redness, and face swelling.
My Verdict on Viviscal versus The Alternatives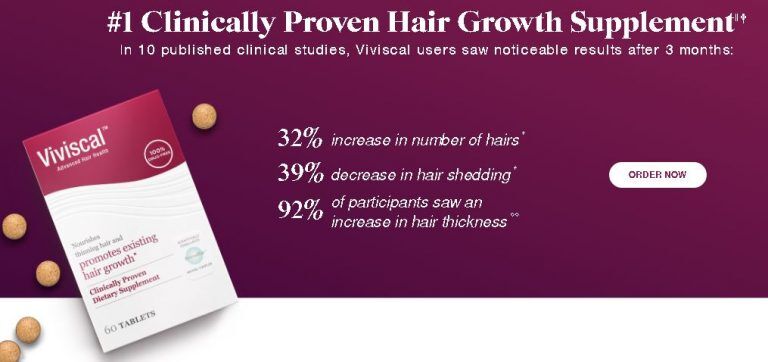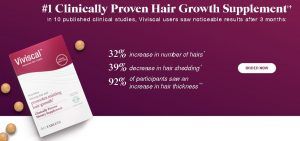 No doubt there are lots of options available in the market when it comes to hair growth products but seriously you cannot trust just any random one promoted to you.
Here in this Viviscal vs the alternative comparison, I tried to cover all those trolling products and supplements that are frequently compared with Viviscal online.
If you ask me, Viviscal is the complete and best solution to your hair fall and regrowth problem. But still, you cannot ignore other quality supplements like Folexin.
Overall, the final decision is going to be yours and I hope this article is going to help you out in choosing the best one for you.