Welcome to our Hair La Vie Vs Nutrafol Comparison. In this Comparison, we have compared the two nature-based supplements with the same haircare goals. Hair La Vie and Nutrafol are the two products that are clearly evident for their natural ingredients and effective results. The desire to include natural ingredients in our lives and products gives rise to the industry of natural products without harmful substances.
With so many haircare companies in the market, it is difficult to find a relevant one. However, in this comparison, we will find out what kind of haircare supplements are provided by Hair La Vie and Nutrafol.
Hair La Vie vs Nutrafol – Quick Comparison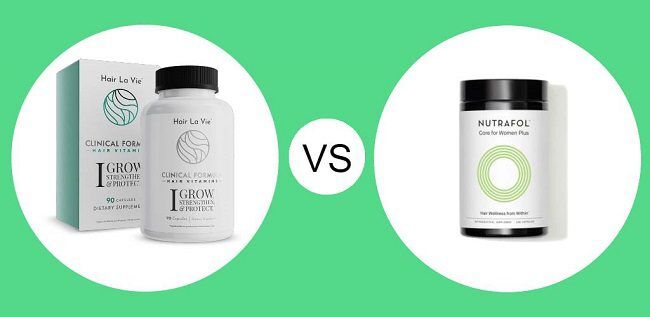 The creators of Hair La Vie are offering a wide range of products and dietary supplements that a woman needs to look and feel better. Hair la Vie is dedicated to providing their best no matter what your hair goals are. They create products with 100% natural ingredients. Hair La Vie has a wide range of products for women.
On the other hand, the team of Nutrafol is clearly evident in producing plant-based products for men and women both. However, their major products are focused on women. Nutrafol creates products from plant-based ingredients called nutraceuticals.
Both products have similar haircare goals. Here is a quick comparison of both the product features and other key factors.

What Is "Hair La Vie?
Hair La Vie is a company that provides a variety of products for hair growth and hair loss. The products are designed with 100% natural ingredients. The best thing about this brand is that they create their products without parabens, sulfates, dyes, synthetic fillers, and preservatives. Their product range includes
Chemical-free hair vitamins
Revitalizing blend of hair vitamins
Shampoos
Conditioners
Dry shampoo
Hair mask
Serum
Argan oil is natural and pure.
Renewing growth treatment
Hair La Vie means "Hair is Life." This brand helps you grow healthier, longer, stronger, and fuller. Their blog section covers a variety of topics such as beauty, recipes, pop culture, and science. However, in this hair la vie vs. nutrafol, we focus only on clinically proven hair vitamins.
This all-natural hair vitamin helps to boost immune health, hair follicle strength, promote keratin protein production, and helps to maintain healthy scalp and sebum levels. Overall, it supports full body nutrition and plays a great role in hair growth.
Read More…
The Science Behind Hair La Vie
As far as the hair la vie clinical formula hair vitamins are concerned, they work by reducing the damaged hair follicles and promoting thicker hair.
But how does it work? This dietary supplement contains several ingredients, varying in amounts, for hair growth. Each of the ingredients supports hair health. One thing we noticed in the entire HLV line is that they contain a lot of silica, which is good for your hair.
Other ingredients, such as saw palmetto, are thought to be beneficial and have clinical evidence to support hair health. It also includes hair-enhancing ingredients that are backed by science to boost healthy hair from the inside.
The HLV Revitalizing formula contains saw palmetto that reduces DHT levels, bamboo leaf and stem, natural minerals, vitamins, and antioxidants. As a result, you will get the most gorgeous, incredibly strong, and healthier hair.
Key Ingredients
The company claims that it contains 100% natural ingredients. Additionally, they are backed by scientific research. It consists of a proprietary blend of 20 natural ingredients. Hair La Vie's primary ingredients include:
Biotin
Evnol Max
Saw Palmetto
Reishi Mushrooms
Amla
Flaxseed oil extracts
Bamboo stem and leaf extracts
Horsetail grass
About Nutrafol
Nutrafol is a wellness company. Their motto is "keep growing." They are focusing on the science and data to create the most effective product that is something more than prescriptions and other vitamins. According to the website, above all this, they wanted to create clinically proven products.
Nutrafol is in pill form. The ingredients they use in their products are called nutraceuticals. Nutraceuticals mean they come from plants. The best thing about Nutrafol is that there are no adverse effects reported by its users.
These natural-infused capsules promote stronger hair growth and reduce hair shedding. By using various natural ingredients, it targets the basic causes of hair problems, nutrients, and stress causes. The product is specifically designed for people experiencing hair thinning because of stress, environmental causes, over-styling, lack of nutrition, etc.
The Nutrafol haircare range comprises
Nutrafol Women
Nutrafol Men
Nutrafol Women's Balance
Nutrafol Postpartum
Nutrafol Hair Growth Serum
You will get a wide range of options for hair care and hair growth. Unlike hair la vie, nutrafol's products have a direct approach to suit
How Does Nutrafol Work?
Research shows that there are multiple causes of unhealthy hair or hair loss. In order to produce the best hair care supplement, Nutrafol finds the most effective formula to restore hair growth. Starting with a Hair Wellness Quiz. They have different supplements for men and women.
Apart from hair growth, their products also contribute to reducing stress and androgen in the body. Androgen is a hormone that contributes to growth and reproduction. Above all, it has a variety of natural-sourced ingredients such as Ashwagandha. The Sensoril Ashwagandha balances cortisol levels, a stress hormone that plays an important role in body stress levels.
Increased cortisol is the culprit for premature shifting from growth to rest. Cortisol disrupts hair growth; it stops your hair from growing longer. Moreover, the Nutrafol supplements work to balance the free radicals and inflammatory molecules that can affect hair growth.
Components of Nutrafol
The ingredients of Nutrafol are called nutraceuticals. To ensure effectiveness, Nutrafol's clinically proven approach targets the six main causes of hair loss or other related issues. The clinical studies are proven to improve hair by 80%. The key ingredients of this product are mentioned below;
Sensoril Ashwagandha: It is a medicinal plant that manages stress by controlling the cortisol hormones. It benefits the immune system, the scalp, and the blood pressure.
Maca-Maca is an adaptogen plant that increases libido in men and women. It supports hormone health, which is good for women dealing with menopause.
Marine Collagen: Marine collagen is a complex essential amino acid that targets keratin. Marine collagen is useful for increasing hair density and reducing oxidative stress.
Saw palmetto-Our body usually turns into DTA, which is the main reason you experience hair fall.Sawpalmetto is an ingredient that slows down DHT. It is very effective in reducing baldness, though.
It also contains a fair amount of vitamin C, fiber, iron, biotin, silica, etc.
Nutrafol vs Hair La Vie – An Overview
Nutrafol: Wendy, 55 years old. "The centre of my head had very bad thinning. I could only style my hair in certain ways. My hair is so much fuller and more vibrant after using Nutrafol. I feel more confident. "
Users notice big changes in their health, quality of life, stress levels, skin health, and anxiety.
Hair La Vie: My hair is what you would consider "fine, frizzy and wavy." But for the past two weeks, I have seen frizz control, fuller, stronger, and healthier hair! I'm really happy to say this brand works with all hair types.
Some users report that they have seen mild acne, and rashes as negative effects. Both the companies have positive reviews. There are lots more pros than cons. You can decide in a profound way at the end of this article.
Which Is Better, Hair La Vie or Nutrafol?
To compare Hair La Vie and Nutrafol, we have seen that HLV proclaims tons of happy customer reviews, creates a positive self-image, and uses even-portioned ingredients that support healthy hair. The only thing missing are clinical trials.
On the other hand, Nutrafol promotes supplements made of 100% natural ingredients, and they are 100% drug-free products. Nutrafol has a specific supplement for everyone. Their haircare products range from dietary pills to hair boosters and serums. They have proven ingredients in their formula and also clinical studies for their products.
Closure Nutrafol And Hair La Vie
In this Hair La Vie vs Nutrafol comparison, we found that both brands are primarily good for the health of hair. Both of the brands deliver the best results. However, if you use Nutrafol, it is your best pick. The distinct and distinct approach to specific hair issues It depends on you, what your hair needs.
With this review, we hope that you have cleared all your doubts regarding the Hair La Vie and the Nutrafol. We have done profound research from our end. You will fall in love with your hair with both brands.
Read Our Top Alternatives…