Are you suffering from continuous hair fall problems? And, need an immediate solution? Falling hair is a great cause of shedding confidence. The current lifestyle of ours leads to severe hair loss. Many situations lead to hair loss. We generally run behind on many chemical-rich products to treat this problem. Nevertheless, there are many natural remedies available to gain or restore hair. In this article, we will check some factors that will help to stop hair fall immediately at home.
How to Stop Hair Fall Immediately?
There are many common and uncommon causes of hair loss in both men and women. Many hereditary causes are the great causes of hair fall. If there is any hormonal imbalance in the body, it can lead to hair loss. Eating much oilier food, smoking, and having an alcohol intake are also great reasons for hair fall. If someone is suffering from some illness and has medicines for it, the harmful side effects of those chemical-rich medicines can lead to hair thinning, shedding, and immediate hair fall. Pollution and vitamin deficiency can also lead to the loss of hair strands.
If you are searching for ways to know how to stop hair fall immediately at home, The following are some tips to follow to stop hair loss immediately:
Stop Hair Loss Immediately:
If you want to treat hair fall immediately, you should start a hot oil massage. You just heat some oil, and if possible, just use coconut or almond oil, and start massaging the scalp and hair with your fingers. It makes the roots of the hair strong. It also helps to increase proper blood circulation in the scalp, which helps to strengthen the hair follicles.
Onion Juice:
Onion juice helps to treat hair loss immediately. It has sulfur content and anti-inflammatory and anti-bacterial properties. It eases the blood circulation in the scalp and keeps it free from many bacteria and germs. It enhances the hair follicles and gives the hair a new volume.
Beetroot Juice:
It is also an immediate solution for hair loss. One should include beetroot juice in the diet to fight many deficiencies and hair fall. It gives the body and hair essential nutrients to be healthy.
Green Tea:
Green tea enhances the body's metabolism, rejuvenates the hair follicles, and kindles hair production. If someone wants an immediate solution to hair loss, they can start conditioning their hair with green tea and see the result.
Amla, or Indian Gooseberry:
Isn't amla a better solution to treat hair loss? Hair loss happens due to a lack of vitamin C, and Amla is a great source of it. It is full of anti-bacterial properties and antioxidants. It prevents many scalp infections and inflammations. Amla gives strength to the hair roots, making the hair silky and shiny.
Neem Leaves:
Neem is well-known for its many medicinal properties. It is very effective to treat hair loss from the root. It enhances the hair follicles and stops hair fall. One can use a neem pack by grinding and boiling it and applying it to the hair.
Aloe Vera: Aloe vera has enzymes that promote hair growth immediately. It also maintains the PH balance of the scalp. It also removes dead cells from the scalp and hair.
Egg White and Curd Paste: Egg white and curd are the best solutions for immediate treatment of hair loss. Together, egg white and curd give essential nutrients to the hair. They help in the production of collagen and keratin, which is important to prevent dandruff.
Make life stress-free: Stress is a significant cause of hair loss. If you want an immediate solution to hair loss, you have to make your life completely stress-free.
Meditation and Exercise: Meditation and regular exercise are the best ways to keep the mind cool, and if the mind is cool, you will be stress-free. So meditation is also a good way to treat hair loss.
Some Natural Hair Masks –
Trending Articles
Hair masks are a mixture of several natural ingredients. You can make hair masks at home by using coconut oil, olive oil, bananas, honey, etc.
You can make a honey-olive oil hair mask or hair pack for better hair. Mix some olive oil and 2 tablespoons of honey in a mixing bowl. To this, you can also add some cinnamon powder. Make a smooth paste with it and apply it to your hair. It is a good source of immediate hair fall treatment. If you are thinking about how to immediately stop hair fall at home for females, It is a good solution for you.
In another pack, you take 2 to 3 avocado fruits and peel them off. Remove the seeds from it and mix it with some drops of coconut oil. Apply this hair pack twice a week and get a significant result. Avocados are full of vitamins, zinc, protein, copper, iron, and other nutrients that are best for healthy hair.
How to Stop Hair Fall Immediately Some Alternative Solutions
Losing hair continuously is a very common and serious issue among men and women. Nevertheless, there are many home remedies available for this. But they are not suitable for everyone. For this, many alternatives have been introduced on the market, like Profollica. These alternatives also have a significant and complete effect on hair loss. By using them, you can surely gain beautiful hair.
Hair Care Treatment by Profollica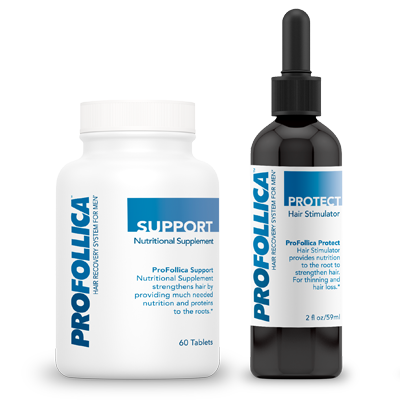 Profollica is a very popular hair care product available on the market. The ingredients that are used in it are completely natural, like biotin, maidenhead, and L-cysteine. You do not have to have a medical prescription to use this product. It is completely free of harmful chemicals.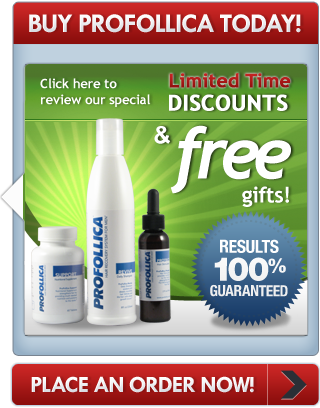 Complete Hair Growth & Care System