Vegamour vs Nutrafol [Updated 2023] If you have ever experienced hair loss, you are aware of its side effects such as low confidence and emotional weakness, and sometimes it also affects mood and well-being. However, having healthy and dense hair can boost your mood and keep you confident. Thanks to anti-hair fall and hair loss products that can restore your hair and give you awesome-looking hair.
Vegamour and Nutrafol are two well-known brands of hair loss products. To find out how these products support hair loss, we have compared the two: Vegamour vs Nutrafol. We have broken down these two products so that you can pick the right one for use. So, if you want to know which product is best for you, keep reading.
What is Vegamour?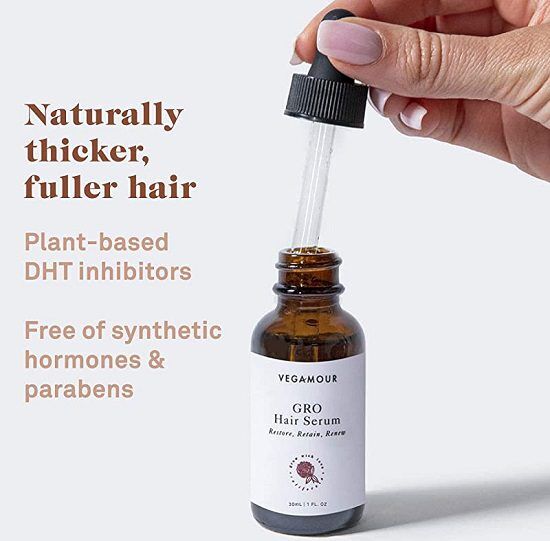 Vagamour is new to this industry, but this brand has achieved popularity in no time. This brand offers a line of hair treatment products. The extensive range of products along with the devoted fanbase have made it a top-leading company. The company offers everything from 100% natural hair care products (serums) to herbal-scented shampoos and conditioners.
Their main products are the original hair serum, then they have Vegamour GRO advanced hair serum, and finally the scalp detoxifying serum. All three serums work amazingly on your hair and scalp.
Besides serum, they have some unique daily hair care products like dry shampoo, which is fragrance-free. For hair loss, this brand offers two types of foam; one is the original, and the other is the GRO version hair loss foam. Moreover, it also has original hair loss shampoo and conditioner that are formulated to restore hair loss and support healthy hair growth.
This is one of the few brands that even provides a dry shampoo and a GRO revitalizing conditioner for people who are looking for something amazing and effective. You can also find GRO Biotin gummies and various Vegamours products that are 100% natural and safe.
GRO-Benefits of Vegamour
Vegamours offer a variety of advantages from their side. Vegamour is a top-rated company that offers almost everything for your hair. They have more than just hair loss products. You can find hair loss shampoo, conditioner, serum, hair gummies, and all in one place.
To get a faster result, you should couple the anti-hair loss products with gummies.
Instead of using a couple of brands, using a single brand product helps to regrow hair faster. This brand is cost-effective. All the products are available at an affordable price. They will not hole your pocket.
Vegamour has a point system that can help you save money and buy a bundle of Vegamour products by using points. The ingredients used in Vegamour hair supplements have a lot of vitamins and are high-quality ingredients that are chosen carefully. They are gluten-free, organic, and 100% safe. The company makes sure that the products remain of high quality and don't have side effects.
What is Nutrafol?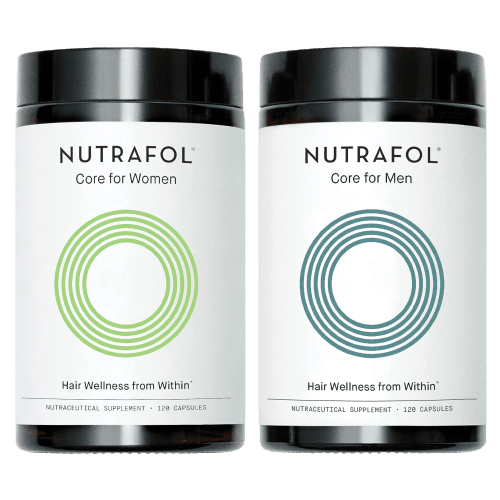 Unlike Vegamour, Nutrafol is a reputed brand focusing on hair loss products and supplements. According to the company, Nutrafol is created for your hair's health, humanity, and health. They, company people, feel that boosting hair growth makes you feel empowered and good. Hair loss is a common hair issue in men and women aged 25 or above. Even teens also experienced hair loss, probably of illness or lack of nutrients.
Nutrafol was founded by people who have experienced hair loss and have tried hair loss treatments. This is an over-the-counter supplement that aids hair thinning and hair loss due to aging, stress, genetic factors, etc. Nutrafol supports hair growth and makes it stronger and shiny, and also prevents hair damage.
The team at Nutrofol has developed some super powerful hair supplements for hair loss in men and women. Nutrafol for men and women has impressive ingredients. All three supplements contain almost the same ingredients to trigger the root causes of hair loss. Nutrafol for women is specifically developed for women struggling with hormones due to menopause. They have used the best ingredients like saw palmetto in the men's Nutrafol product.
On the other hand, women's products have focused on stress because women tend to be affected by stress.
Overall, this company is mainly focused on hair loss supplements, and when you use their core products with other supplements, you will get a lot of benefits.
The Advantages of Nutrafol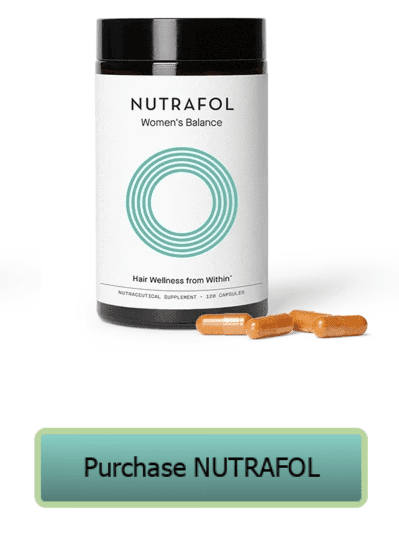 Nutrafol is one of the leading companies dealing in hair loss supplements. The members of the research panel of the company create the best formula that other companies can do with the same ingredients. This makes Nutrafol stand out from the crowd. The people who created this brand are victims of hair loss, and they know the pain of losing hair every day.
Speaking of its ingredients, Nutrafol has an amazing line of ingredients like saw palmetto, maca, and Astaxanthin that make it so powerful. The natural ingredients are collected from growers and tested by third-party labs to ensure that the ingredients are chemical-free, non-pesticides, and do not contain heavy metals. It doesn't have any harmful chemicals or additives that other companies tend to have.
The best thing is that Nutrafol manufacturing facilities are FDA-approved and have passed through the GMP guidelines. It is a certified brand. Additionally, the plus point is that you can talk to the naturopathic doctor on call any time you want.
Final Verdict
Hair loss is a terrifying experience, especially for women. Male pattern baldness is often discussed and gets more attention, but hair thinning in women is more in number and not discussed by many women openly. There are 21 million women who experience hair loss annually. Thanks to the brands Vegamour and Nutrafol who have created such an amazing hair loss supplement for the sake of good hair.
In our opinion, Nutrafol leaves more impressive results than Vegamour. The two of the brands tried their best to not just. Taste good, but also provide quality in their products. The ingredients inside the products are powerful and recommended by experts to prevent hair loss. Nutrafol packing is super sleek and fits easily in small spaces, and they provide a great option for men and women. On the Vegamour is also a nice pick if you want to add supplements to your daily diet to get gorgeous hair.